The purpose of this comprehensive guide is to give you an introduction to social media for business. By reading this guide, you'll learn the importance of using social media for your business and how to develop your own social media plan and calendar. Hopefully, you can get some inspiration by looking at the creative B2B social media examples presented below and also find the tools you need to succeed.
What is social media?
Social media are interactive computer-mediated technologies that enable users to connect, communicate, and share content quickly and in real-time. Social media marketing is a powerful way for businesses of all sizes to connect with prospects and customers. Great social media marketing can bring success to your business, create dedicated brand advocates and even drive leads and sales. It involves posting and sharing content across platforms, engaging and interacting with users, as well as tracking and optimising social performance.
Learn more about the evolution of social media and the differences between the terms social media, social media for business and social media marketing.
Why social media is important for business
There are many benefits for businesses to use social media; let's take a look at the main reasons why social media is important for your business.
Easily connect
More and more internet users spend a large part of their online time on social media - either to build networks or to get information. The number of active users of social media has now passed the 3.8 billion mark.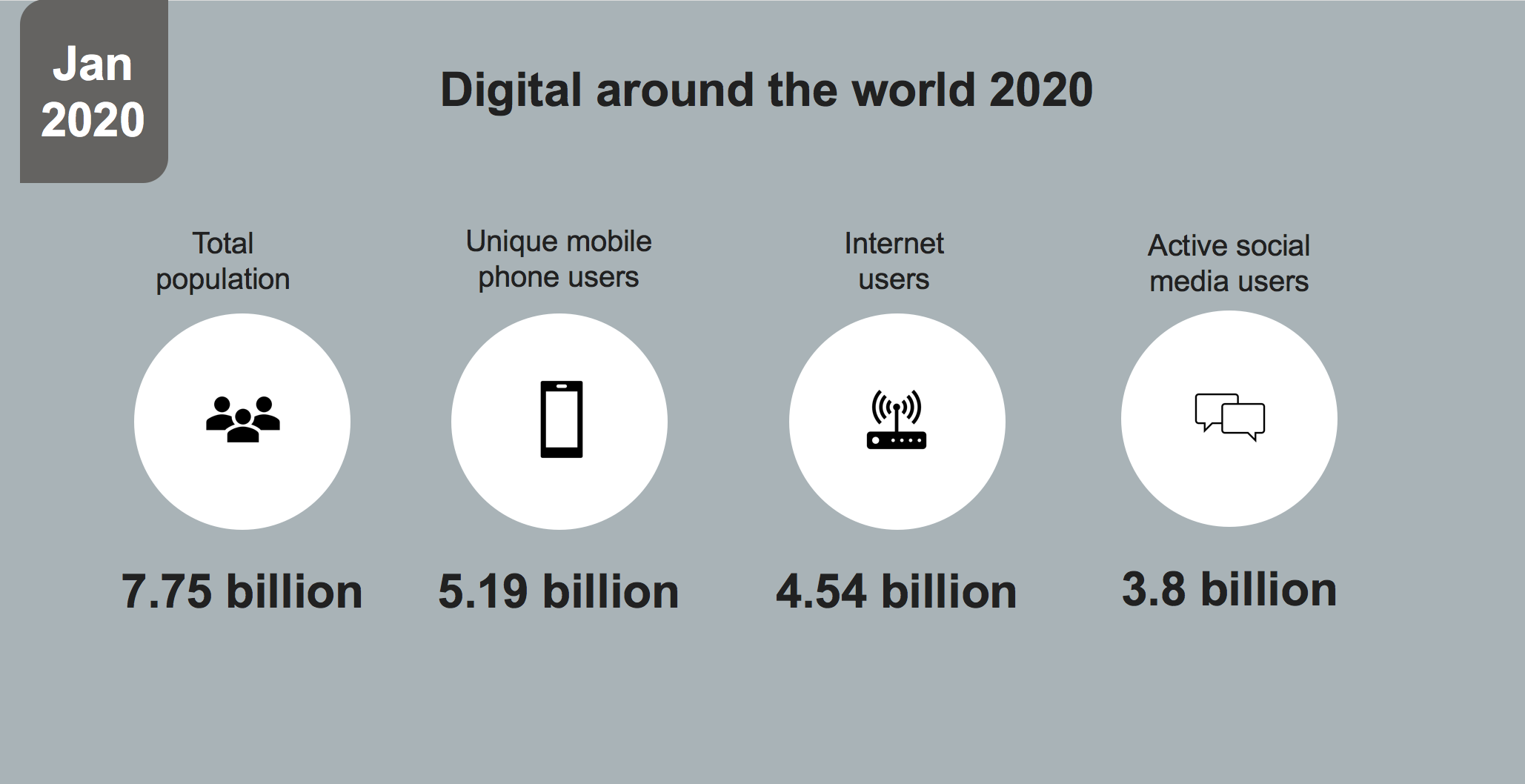 Source: We are social
Users surf on the go and use social media to communicate fast. Through the heavy use of social media in our everyday lives, this is a way of getting closer to existing and potential customers.
Build strong relationships
Social media is a neat tool for building a relationship with your target audience. By connecting and engaging with your existing customers and prospects, you'll be able to build lasting relationships between them and your business. Furthermore, being active on social media improves relationships with your target groups.
Increase brand awareness
Engagement on social media increases brand awareness. It includes comments, likes, messages and re-posts from your followers. So your content has a chance to be seen by a broad audience and attract more potential customers to your company. Content related to your products and details about your company on different platforms can help to increase brand awareness. In addition, include direct links on the different platforms to your .com/.xx to increase traffic.
Generate leads
Social media helps you attract buyers to your offering. Sharing your offering on social media is a simple way to an influx of leads, and generate additional sales on existing customers because you're advertising to people who have opted to engage with you by following your account. Additionally, running social media advertising can boost leads and sales. By promoting your content on social media channels, you can present your well-researched content to new people, thereby demonstrating your expertise and expanding your target audience.
Attract professionals
The shortage of skilled workers poses challenges for many companies. They have to assert themselves against competitors. A good image and presence on social media can help. Not only potential customers but also potential new employees use social networks, which is why publishing job ads on the platforms is a good idea. With this modern form of personnel marketing, you can attract qualified professionals to your company.
How to develop a social media plan
Set social media objectives
Before you arbitrarily start posting content on social media, you should take a step back and take a look at the big picture. The first step is to think about a comprehensive social media plan. Start by defining the purpose and objectives of social media for your business.
Firstly, think about the purpose of being active in social media. Why do you want to be active on social media? Do you want to connect with your target group, or do you want more traffic to your online presence? If you know why you want to be active on social media, you are ready to define the right objectives. Make sure to align your social media objectives with your overall business strategy.
With objectives, it is easier to measure your success or your social media return on investment (ROI). I'm sure you have heard about SMART goals. Having SMART goals means you will have tangible results to share with the organisation (or your manager).
SMART goals should be:
Specific,
Measurable,
Attainable,
Relevant/reachable, and
Time-bound.
An example of a SMART goal for your business might be 'Grow our LinkedIn audience by 40 new followers per month.'
Depending on the objects you defined, you should track the right metrics. Social media metrics shows data related to the success of your content and your impact on your audience on social media platforms. These metrics may include data about your audience, posts, likes, shares, and all other interactions on each platform. Keep track of all your social media content on all channels.
Evaluate and test different posts and campaigns. Things change quickly in social media. New networks are emerging, while others are undergoing significant demographic changes. By continually testing, you can understand what works and what doesn't so that you can refine your social media plan.
Learn about your audience
You should learn everything about your audience - from what they want to what they are interested in. Creating buyer personas can help you to get to know your audience better. Buyer personas are fictional, generalised representations of your ideal customers. They help you understand your customers and prospective customers better.
Social media platforms

It is essential that you decide which platforms you will share your content on. Think about the needs of your target audience and where they spend their time. It is crucial to be where your potential customers are today and where they might be tomorrow. If you're already using social media, conduct a social media audit. It helps you assess how well your current social media use works for you.
To help you decide which platform you should use, here is an overview of the major platforms:
More than 630 million professionals gather on LinkedIn. It is the most effective place for B2B marketers to engage with decision-makers, influencers, leaders and users. These potential buyers of your products and services use LinkedIn for business purposes, connect on a professional level and consume and share knowledge. This is a very different intent and mindset from other social media platforms. And it's precisely this aspirational mindset that has led to the explosion of content now shared weekly on the LinkedIn feed. Learn how to make the most of your LinkedIn Page.

Facebook

is still the most popular social platform, with more than 2 billion monthly users. This means for your company: a large part of your target group is most likely active on Facebook every day. Facebook for businesses is and remains a crucial discipline and should be an essential part of your social media plan.

With Facebook, it is easy to turn your customers into a community by creating a Facebook page. Use your Facebook channel to promote your content to convert them to your .com/.xx., using paid advertising.
Over 1 billion Instagram accounts worldwide are active every single month – from users to influencers and companies. The platform can help companies to grow awareness, target the right audience, and convert visual content into sales. From major brands to local, family-run shops, businesses around the world are driving proven results with Instagram. Learn more on how to drive traffic from Instagram to your .com/.xx.
Twitter is a powerful platform to increase your business's online reach. 80% of all Twitter users have mentioned a brand in a Tweet. Twitter gives its users a constant stream of information and new content from all over the world. It has more than 300 millions of users every month. Twitter is an excellent platform when you want to expand brand awareness through credible ambassadors accounts. You have to be concise informative all in one tweet since Twitter limits messages of 280 characters.
With 2 billion monthly users, Youtube is the second-largest search engine after Google. Once you make a video, it'll show up in Google and YouTube search results. Marketing is moving toward video over static content, and YouTube is emerging yet again as a key player. You can create a YouTube channel for your company where you can upload videos for your subscribers to view, like, comment, and share. It is best for entertainment, brand awareness and support existing customers with education and video help content.
Of 300 million users, Snapchat's audience is primarily Generation Z. Snapchat is an app that focuses on sharing stories. Stories are allowing users to post photo and video sequences that disappear 24 hours after being posted. Snapchat might not be the best social media channel for every business. However, if your business wants to connect with people under the age of 35, Snapchat is the right place to be. That's because 82% of all Snapchat users are 34 years old or younger. It is best for brand awareness and advertising.
Pinterest is a place to share visual content - everything from a scarf to an truck. The 300 million monthly users visit Pinterest to discover new things and be inspired, instead of engaging with the brand, unlike most social media sites where engagement is the primary focus. According to Pinterest, 55% of Pinners are explicitly looking for products. And 83% of weekly users have made a purchase based on the content they see from brands on Pinterest.
How to create a social media content calendar
Social media content
Your social media content should be relevant and made as part of your overall social media plan and in line with the objectives. With the right messages in the form of text, images, videos, captions and hashtags, you can reach the right audience at the right time. Mix different types of content. You can have content that directly promotes your brand. But not all content created should be sales-oriented. Create relevant and engaging content that also informs, educates, or entertains your audience.
Hint: Visual content is critical for your social media marketing success. People process visuals much faster than text, making visual content a lot more popular than textual information.
Social media content calendar
By planning and scheduling your content, you can ensure that all the necessary work is done on time and that your postings can go online at the right time. Keep track of all topics, dates and channels with a calendar. You will save time, nerves, and you won't forget a business-related event and important holidays. Start to plan and schedule your content in a calendar template or use a social media tool.
B2B social media example
HubSpot is a marketing, sales, and service software that helps your business grow. It is present on many different social media platforms and has thousands of followers. Here are examples of their social media marketing on LinkedIn, Facebook, Twitter and Instagram.
LinkedIn
What they do right: Offer free documents for download to educate followers.
LinkedIn is a platform on which followers want to learn and connect. HubSpot offers with the document sharing feature busy professionals content in the form of PDF, PPT or DOC that could easily be reused.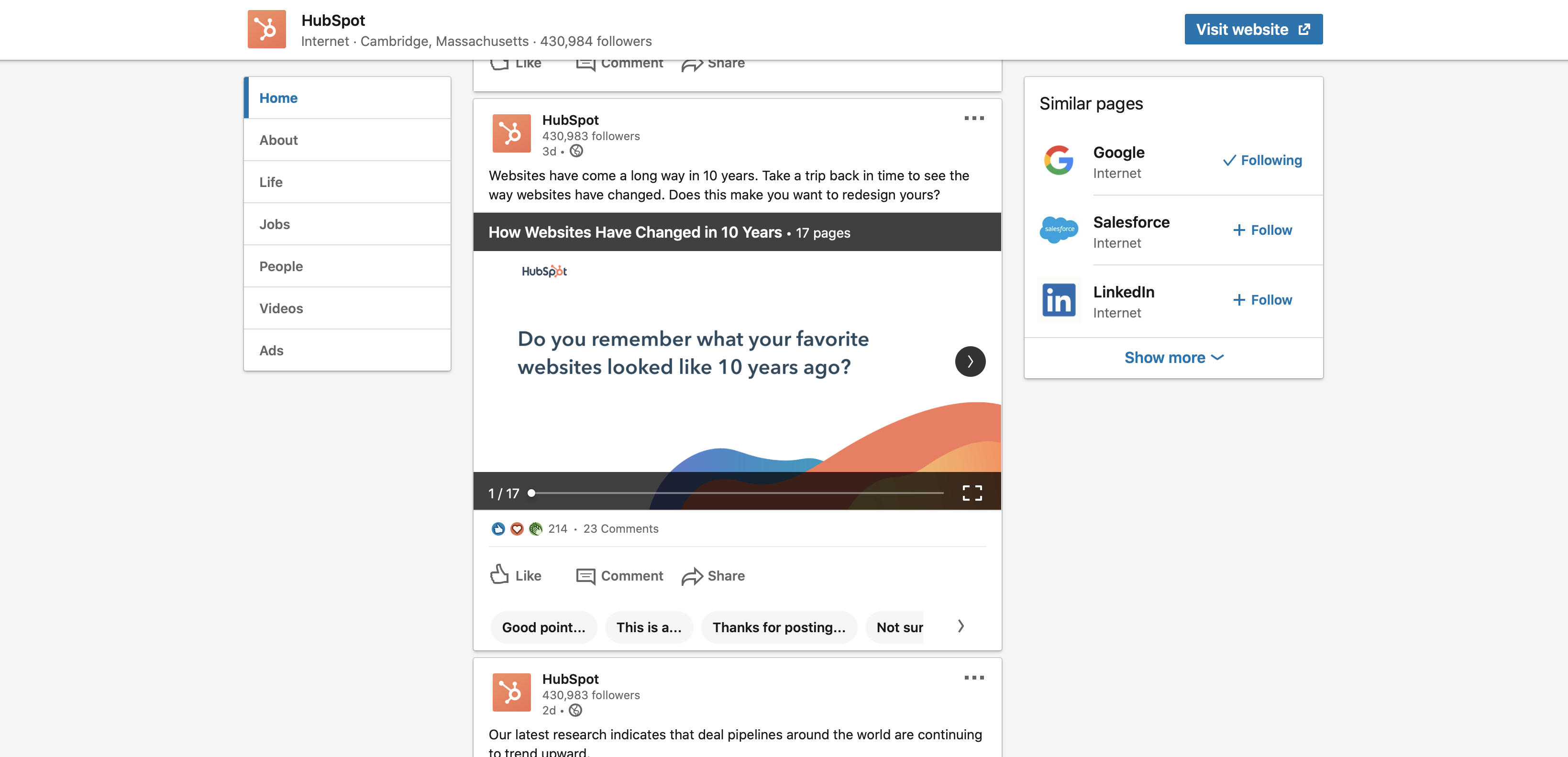 Facebook
What they do right: They use video to share experience and encourage followers to interact. HubSpot focused on a cause that resonates with their audience and shares relevant videos about their own experiences. This is a great way to give your followers insight and encourage them to share their own experiences.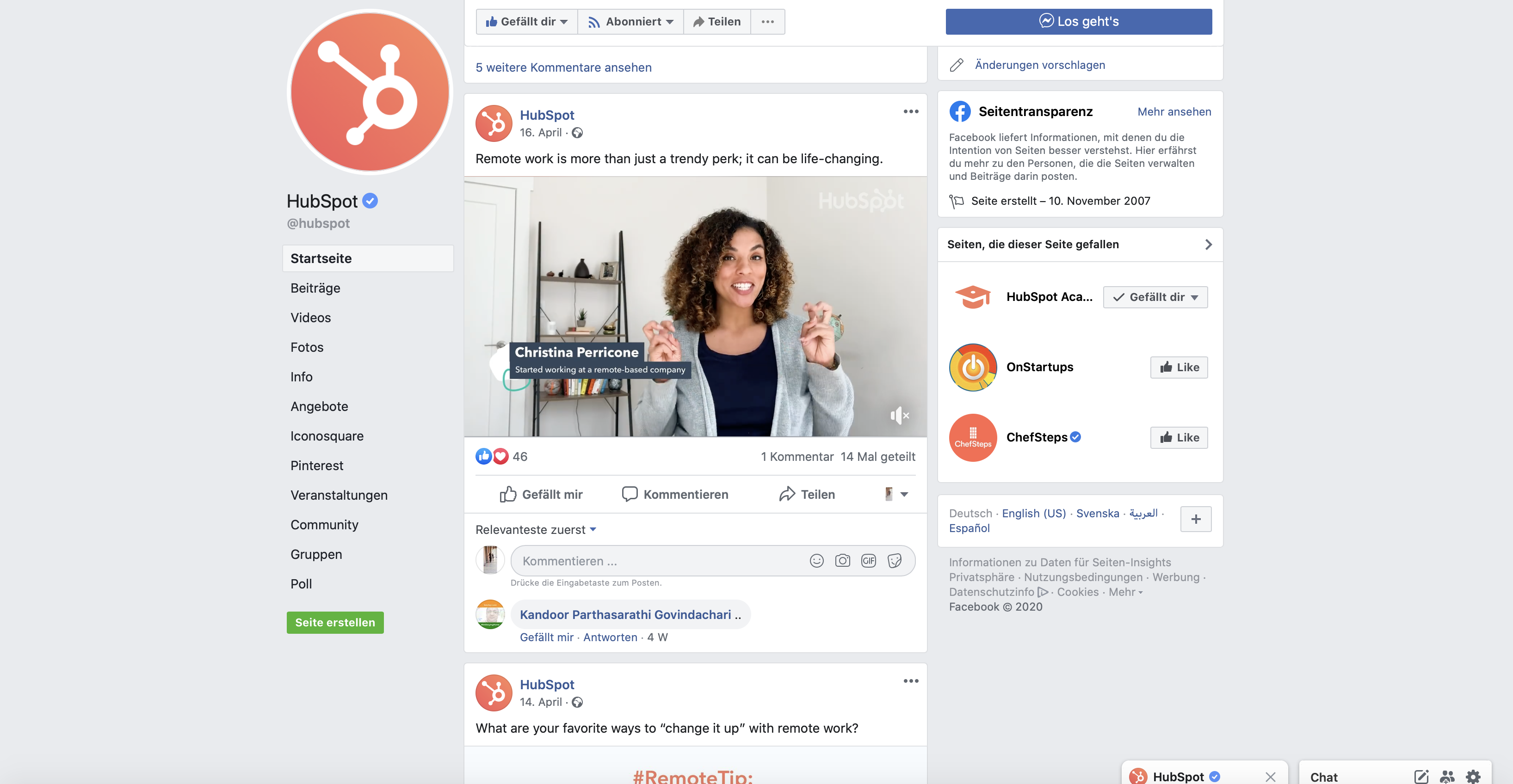 Twitter:
What they do right: They use pools to understand their audience better.
Twitter polls allow you to know what your followers think, what they want, or what they're doing. With one click, people are able to provide an answer and see the results instantly. In this example below, HubSpot asked about the biggest pain point with current CMS to understand their existing and potential customers better.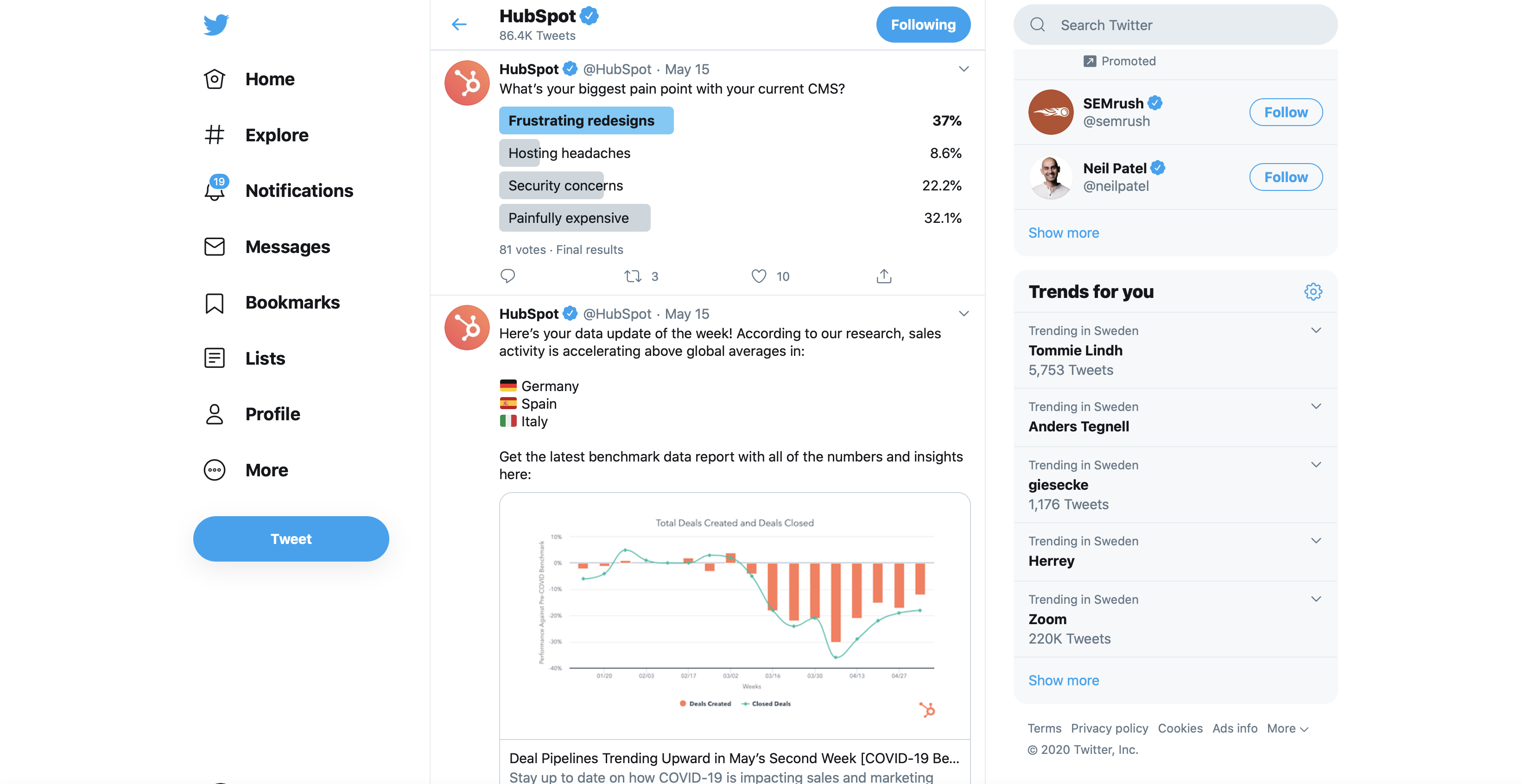 Instagram:
What they do right: They use stories daily to get more visibility. Instagram stories are increasingly popular among companies. HubSpot regularly share stories and will always appear at the top of the app, and they will be in the constant field of vision of their audience. Read more about the benefits of using Instagram stories for your business.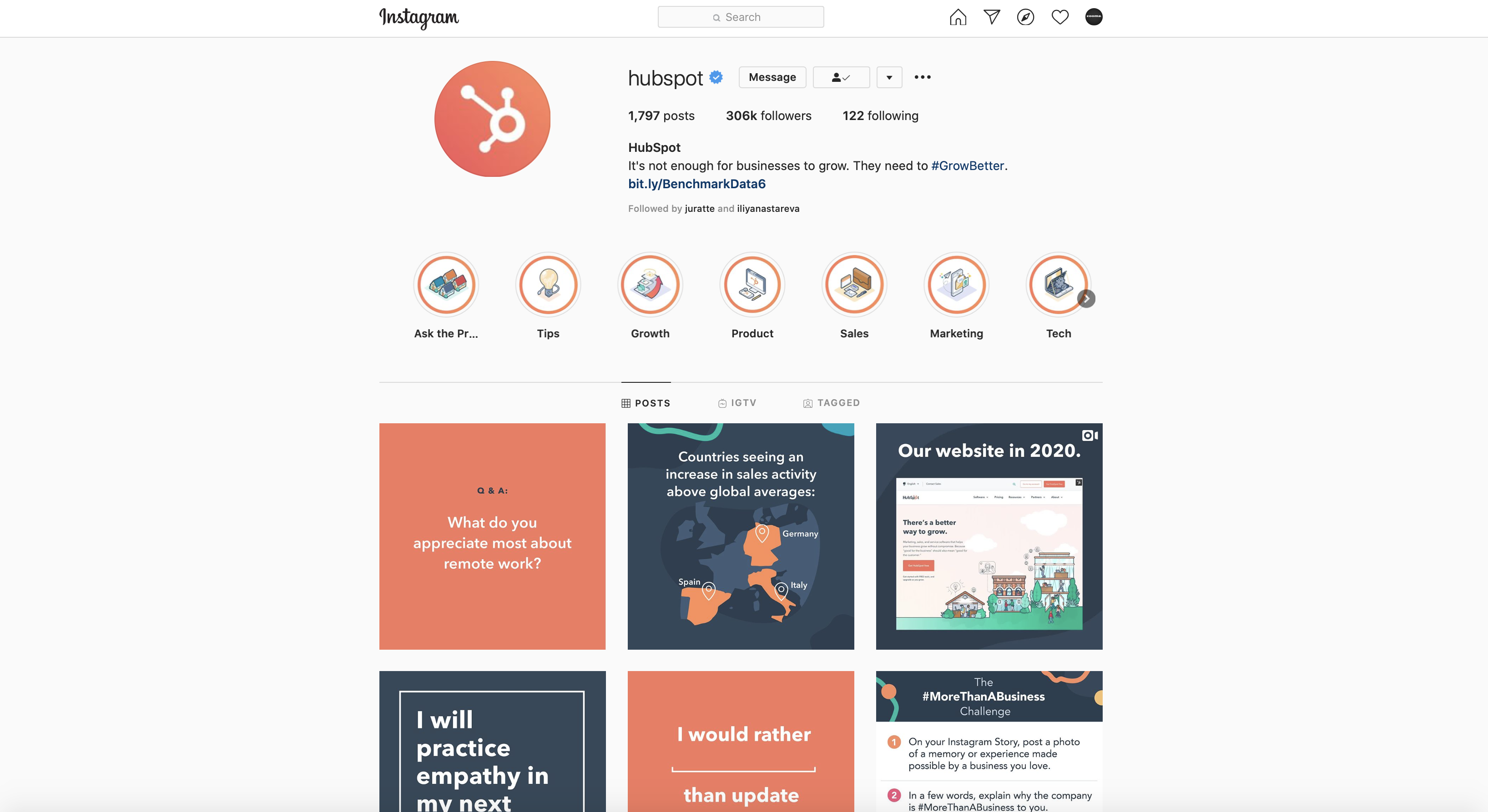 Social media tools
There are currently many social networks and some new ones that show potential; it is almost impossible to manage all these networks manually. Fortunately, there are a variety of social media managing tools that can make your job and life more manageable.
However, you need to think carefully about how you invest in social media tools and how they fit into your overall infrastructure over time. Let's take a look at the five tools to help you pick what's best for your business.
Compare more social media management tools that have been rated by users.