This article is part of a series on the topic 'Social media for business'. It gives a brief overview of the evolution of social media and explains the terms social media, social media for business and social media marketing.
The evolution of social media
End of the 90s, as broadband Internet became more popular, websites appeared where users could create and upload content. The first social platform was called Six Degrees and appeared in 1997. In 2002 a large number of social platforms were introduced. Platforms such as Friendster grew popular but then faded. Other platforms such as MySpace was aimed at young music lovers. LinkedIn was another of the first social media platforms. It was founded in 2002 and is a platform for professional, social and career networking. Since then, social media has gained widespread acceptance, and some services saw a massive increase in the number of users. For example, Facebook announced in November 2012 that it had 1 billion users worldwide. The global user numbers of the latest social media platform TikTok are already at 800 million monthly active users after its launch in 2018.
The number of active users of social media has now passed 3.8 billion. Below is a summary of global social media users around the world in January 2020.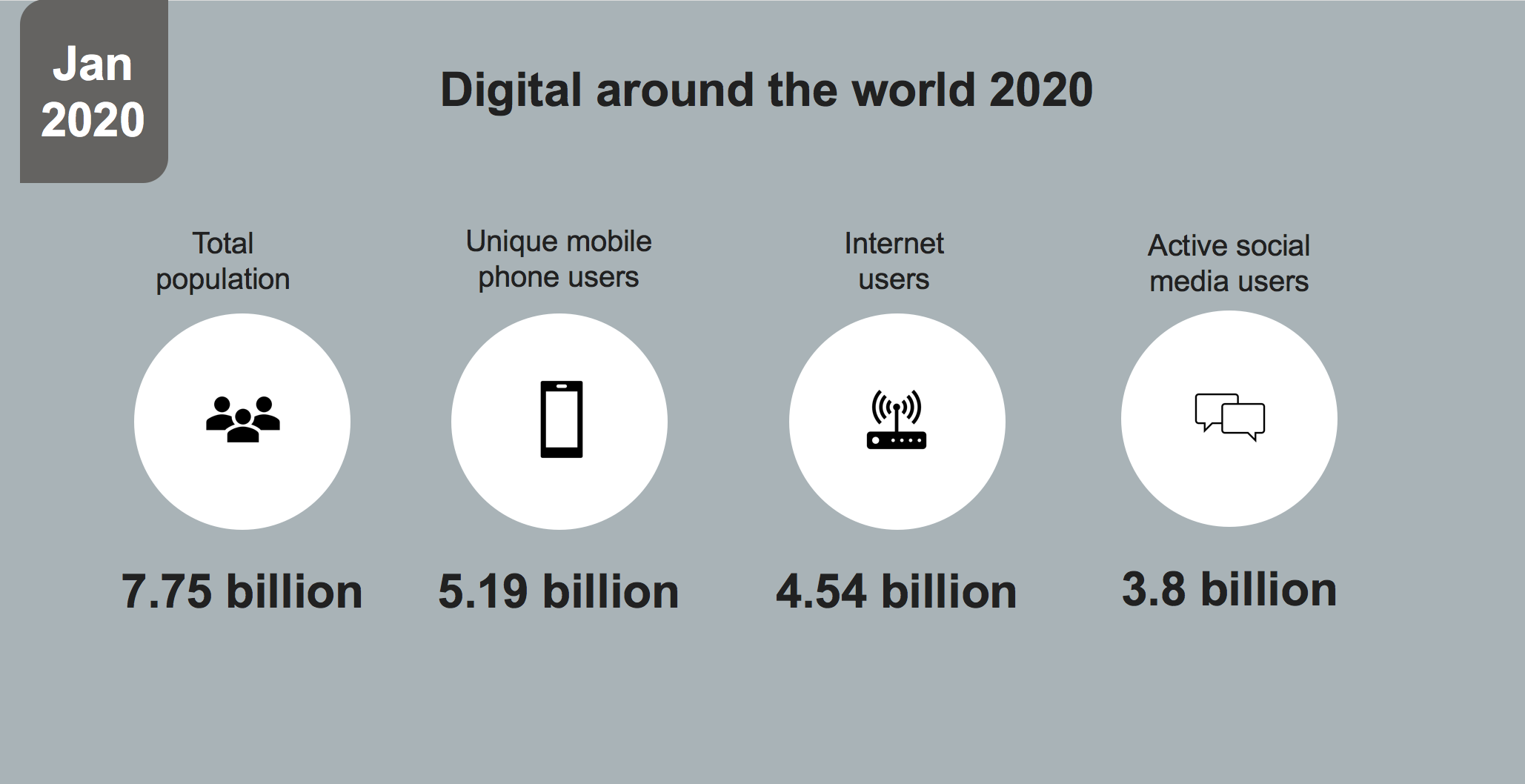 Source: we are social
Several factors have contributed to this rapid growth in social media usage. These include technological factors such as the increasing availability of broadband, improvements in software tools as well as the development of more powerful mobile devices and computers. Other significant factors include the growing number of social media is rapidly adopted by younger age groups and the increasing commercial interest in social media.
According to Hootsuite's annual report, time spent in social media increased in all age groups worldwide during the COVID-19 era. The 16-24 age group is the front runner with a 58 per cent increase. The 25 to 34-year-olds have doubled their time spent, and the 35 to 44-year-olds spend 42 per cent more time. The 45 to 54-year-olds increased their time spent by 34 per cent, while the 55 to 64-year-olds use social platforms 33 per cent more than usual.

Today, many businesses are present on social media, and it is unusual when you come across a company that doesn't have a social media presence.
What is social media?
There is not a common definition of social media, as there are a lot of different social media services available and new forms of social media are continually being created.
Simply put, social media enable users to connect, communicate, and share content quickly and in real-time. For example, people share their thoughts and opinions, exchange photos and videos, take part in online discussions, and buy products.
Wikipedia defines it as follows:
'Social media are interactive computer-mediated technologies that facilitate the creation or sharing of information, ideas, career interests and other forms of expression via virtual communities and networks. The variety of stand-alone and built-in social media services currently available introduces challenges of definition'.
Source: Wikipedia
What is social media for business?
Social media allows businesses to interact with large numbers of people in real-time, stay in better contact with existing and potential customers and strengthens their relationship with them and increases brand awareness. Business can respond very quickly to both positive and negative feedback, attend to customer problems and maintain, regain or rebuild customer confidence. It is also used for marketing products and promoting brands across different platforms.
At the moment, the major social media platforms are Facebook, Instagram, LinkedIn, Twitter, Pinterest, YouTube, Snapchat, and TikTok. WeChat is the largest social media platform in China, with over 1,2 billion monthly active users in Q1 of 2020 and Weibo – the Twitter of China – had 550 million active users in March 2020, according to China Internet Watch.
What is social media marketing (SMM)?
SMM is the use of social media to increase brand awareness, generate leads, and to build meaningful relationships with prospects and customers with content that is compelling enough that users will share it with their social networks. Social media marketing must be well-coordinated with customer service, management, and social selling activities to create a seamless relationship with prospects and customers across their buying process. Social media is just one channel in the overall mix, and social media marketing programs must be fully integrated into your business strategies.
Effective social media management is vital to conducting business on social media. It enables an organisation to keep track of all of its social media accounts. When implemented at scale across departments and regions, coordinated social media management practices allow everyone within the organisation to collaborate and achieve measurable outcomes on social media.
Read the complete Social media guide to learn why social media for businesses is important and how to build a social media plan that will work for your business. Or, if you prefer, download the guide as PDF below.