How do you start with social media? What do you need to consider? When it comes to social media, there are a lot of questions, and for many companies, it is still unclear how and where to start. As with anything, it's crucial to have a basic plan before you start. In this article, I describe how to create a social media plan from scratch.
Set social media objectives
Before you arbitrarily start posting content on social media, you should take a step back and take a look at the big picture. The first step is to think about a comprehensive social media plan. Start by defining the purpose and objectives of social media for your business.
First, think about the purpose of being active on social media. Why do you want to be active on social media? Do you want to connect with your target group, or do you want more traffic to your online presence? If you know why you want to be active on social media, you are ready to define the right objectives. Make sure to align your social media objectives with your overall business strategy.
With objectives, it is easier to measure your success or your social media return on investment (ROI). I'm sure you have heard about SMART goals. Having SMART goals means you will have tangible results to share with the organisation (or your manager).
SMART goals should be:
S

pecific,

M

easurable,

A

ttainable,

R

elevant/reachable, and

T

ime-bound.
An example of a SMART goal for your business might be 'Grow our LinkedIn audience by 40 new followers per month.'
Depending on the objects you defined, you should track the right metrics. Social media metrics shows data related to the success of your content and your impact on your audience on social media platforms. These metrics may include data about your audience, posts, likes, shares, and all other interactions on each platform. Keep track of all your social media content on all channels.
Evaluate and test different posts and campaigns. Things change quickly in social media. New networks are emerging, while others are undergoing significant demographic changes. By continually testing, you can understand what works and what doesn't so that you can refine your social media plan.
Learn about your audience
It would be best if you learned everything about your audience - from what they want to what they are interested in. Creating buyer personas can help you to get to know your audience better. Buyer personas are fictional, generalised representations of your ideal customers. They help you understand your customers and prospective customers better.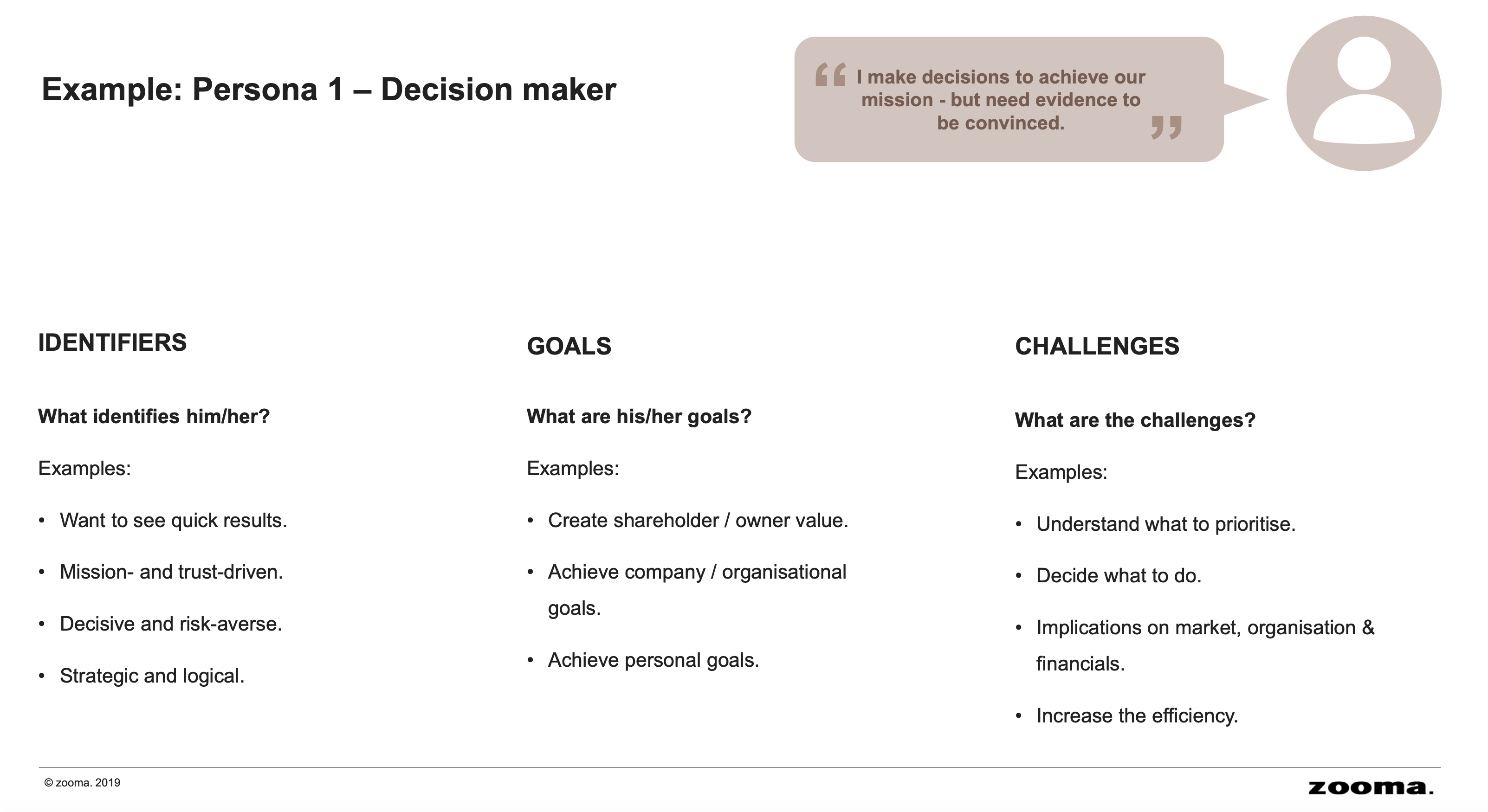 Buyer persona template: Example of Persona 1
Social media platforms
It is essential that you decide which platforms you will share your content on. Think about the needs of your target audience and where they spend their time. It is crucial to be where your potential customers are today and where they might be tomorrow. If you're already using social media, conduct a social media audit. It helps you assess how well your current social media use works for you.
To help you decide which platform you should use, here is an overview of the major platforms:
How to create a social media content calendar
Social media content
Your social media content should be relevant and made as part of your overall social media plan and in line with the objectives. With the right messages in the form of text, images, videos, captions and hashtags, you can reach the right audience at the right time. Mix different types of content. You can have content that directly promotes your brand. But not all content created should be sales-oriented. Create relevant and engaging content that also informs, educates, or entertains your audience.
Hint: Visual content is critical for your social media marketing success. People process visuals much faster than text, making visual content a lot more popular than textual information.
Social media content calendar
By planning and scheduling your content, you can ensure that all the necessary work is done on time and that your postings can go online at the right time. Keep track of all topics, dates and channels with a calendar. You will save time, nerves, and you won't forget a business-related event and important holidays. Start to plan and schedule your content in a calendar template or use a social media tool.
Read the complete social media guide or download the guide as PDF.