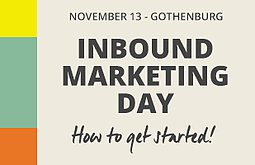 Zooma will host the first annual Inbound Marketing Day in Gothenburg on November 13th. It is an event for sales, marketing and communications professionals and will focus on sharing insights into effective marketing that deliver real results and generates a steady stream of leads for businesses.
People have changed their habits and behaviour and are increasingly relying on online sources as the primary way to get informed, research, prepare for purchase and make purchases. As a result many companies find that their traditional sales, marketing and communication tactics are quickly becoming increasingly ineffective.
Companies need to adapt marketing and communication to the changed behaviour of their target groups. Traditionally they have focused exclusively on interruptive sales and advertising tactics.Now is the time to tell their story and spread their knowledge to as many relevant online touch points as possible so that their target groups find their information when they search for it. That way companies can attract customer by providing them with something they want and need when they are searching for a solution, answers or knowledge online.
Put simply, companies need to start focusing more on Inbound Marketing and less on traditional Outbound Marketing.
To support brands and companies to make the needed transition and to evolve their way of working Zooma has started Inbound Marketing Day.
At this half day event you will learn how to get started with Inbound Marketing and how you can generate a steady stream of leads for your business. You will learn about real results from Inbound Marketing directly from companies such as HubSpot, ArjoHuntleigh, PwC, IVT, ABB and Wellspect and get a chance to network with your peers.
What you'll get from the event:
Insights into what inbound marketing is and how to get started
Learnings and results from companies that have implemented inbound marketing
Networking with speakers and attendees
Lunch and refreshments
Access to the speaker presentations after the event
A copy of the new-release of the book Inbound Marketing
Tickets are limited so hurry up and register now!