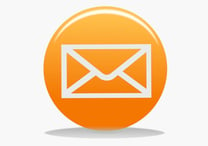 How many of the emails you receive do you open? And how many of your emails do you act on? What can you do to improve the chances of reaching through with the emails you send?
In this post we'll focus on email marketing management. Open-rate is defined as a measure of how many people on an email list open (or view) a particular email. A number of factors come into play. In an article by Campaign Monitor, your open rate is affected by things like the size of your list, your type of business and your relation to the target audience. On a general basis you can increase your chances of reaching through by including details about the content of the email right in the subject line, and get the important content at the top of your email since pre-view functions gives the opportunity for a reader to quickly judge if your email is worth opening. A rule of thumb is to tell what's inside your email, not sell.
So, what about timing?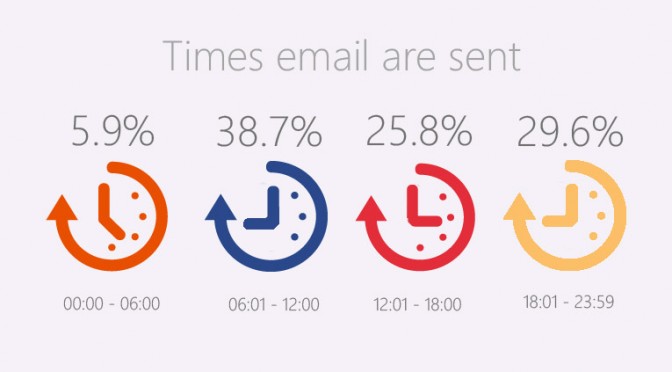 Image by http://sandrastachowicz.com
Wordstream provided some interesting insights last year. On a general basis, there are some clear don'ts you should pay attention to: "Mad Mondays" – The general consensus is that you should avoid sending out email blasts on Mondays. People march into the office and are flooded with emails they've collected over the past few days. What's the first thing they do? Delete most of those emails of course. For almost the same reason, weekends should be avoided.
Tuesday, Wednesday, and Thursday have traditionally been favourite days to send email campaigns, as email marketers seek to avoid the Monday angst and Friday's itchy-feet. The tried-and-true traditional approach of sending out email campaigns in the middle of the week and in the middle of the day tends to do pretty well.
Now, if everybody knows this, you're facing a ton of competition by sending out emails on the "recommended" days and times. Also, the standard mid-week, mid-day makes perfect sense for desktop users who are opening emails at work. Mobile users, on the other hand, tend to be pretty active even late in the evening.
Therefore, Wordstream has found that Thursday 8-9 a.m. is the time of the week that works best for them.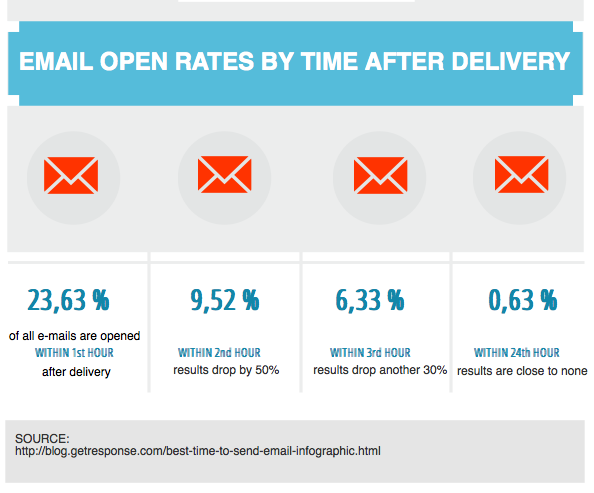 GetResponse concludes email campaign success depends upon subscriber engagement. 24% of all email opens happens within the first hour. So in that sense, you can quite quickly judge a prognosis for your campaign success. 24 hours after delivery, the average open rate is close to zero. GetResponse suggests, similarly to Wordstream, that subscribers' top engagement times are 8 a.m. – 10 a.m. and 3 p.m.- 4 p.m. Since 40% of all emails are sent between 6 a.m. and noon, and therefore emails sent in the early afternoon have a higher chance of being noticed.
Last week, USC Viterbi School of Engineering shared an article on the matter. Although primarily targeting your personal email efficiency, it has value for email campaign timings as well. 90 percent of people respond within a day or two of receiving an email to which they plan to respond. Though most of us are plugged in 24/7, there are optimal times to send emails. The researchers found that emails sent in the morning tend to get longer replies than those in the afternoon.
So, the ultimate answer to the question is "It depends". It depends on the habits of your target audience, the competitive landscape and on your ability to create appealing content. What all resources above have in common is that they share two main recommendations: Make sure you have a saucy, enticing subject line, and TEST.
As you may have noticed, we are testing things out ourselves at Zooma, and will keep you posted on the matter.
Want to learn more about how you can tie pieces together with Inbound? Read the excellent article How to use ads to supercharge your Inbound Marketing by Yeu-Kang Hua.