There's a new release of the Ericsson Mobility Report. For those of you who yet haven't discovered this publication, it is a indicative publication that can be used as a source of information on important trends and as a basis for future decisions on how to change and adapt to ongoing developments.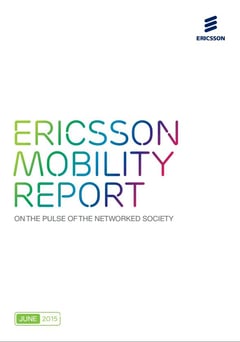 This edition has a special focus on various aspects of the consumer experience (or customer experience) on smartphones. As explained in the section Screen Size Matters, tablet users spend 50 percent more time watching videos online than average mobile broadband users (page 26).
The report estimate 3.7 Billion LTE (4G) subscriptions by 2020. Higher speed and improved functionality along with wide reach through GSM network will accelerate the adoption of new applications. You can read more about IoT in the section Enabling The Internet of Things (page 10).
The Digital Signature of Sports (page 20) talks about how sharing, viewing and networking has become a natural part of a sport event that enrich the user experience for on-site spectators. There are some amazing figures - on the final of the 2014 football world championship, spectators generated an equivalent to 9 billion social media posts. This case illustrates the impact that connectivity will have for creating a full experience. We know for sure that arena type of situations are being followed by other places and industries that will need to think in a similar way. If you want to discuss more around the topic of user experience for example in stores, please feel free to get in contact with Zooma.
The full report can be accessed here.