Currently, many employees work remotely, and it is expected that working from home will grow exponentially in the coming years. Moreover, the extraordinary situation has undoubtedly accelerated the pace of change in the field of working from home. However, working remotely can present some challenges, such as communication and collaboration for dispersed teams. To help you figure out which tools might be helpful for you and your team, I gathered some of the tools we are using when working remotely. And download the Vidyard guide to learn how to record your desktop, your microphone, and/or your webcam with the Vidyard Chrome extension.
Com
munication
A few weeks ago, we mostly used our conference rooms in the office and only occasionally video conferencing for internal meetings. At the same time, it was common to have the external meetings through video conferencing. This has changed radically with the current situation, and video conferencing has become a way of life. Now, we don't have the luxury of walking over to colleagues and ask questions. I have listed the tools and apps that the Zoomers use to interact and stay in touch when working remotely.
Zoom
Zoom is very easy to use and allows you to schedule and record virtual meetings. These meetings can be entered in three different ways: remotely from a computer, smartphone, or by voice via a dial-in phone. Up to 1,000 people can attend in a video call. During meetings, you can also share your screen with teammates so they can see your work or presentations. A neat add-on that we recently discovered is Breakout Rooms. Breakout Rooms allow you to split your meeting into various sessions. The host can choose to split the attendees of the video conference into these different sessions and can switch between sessions.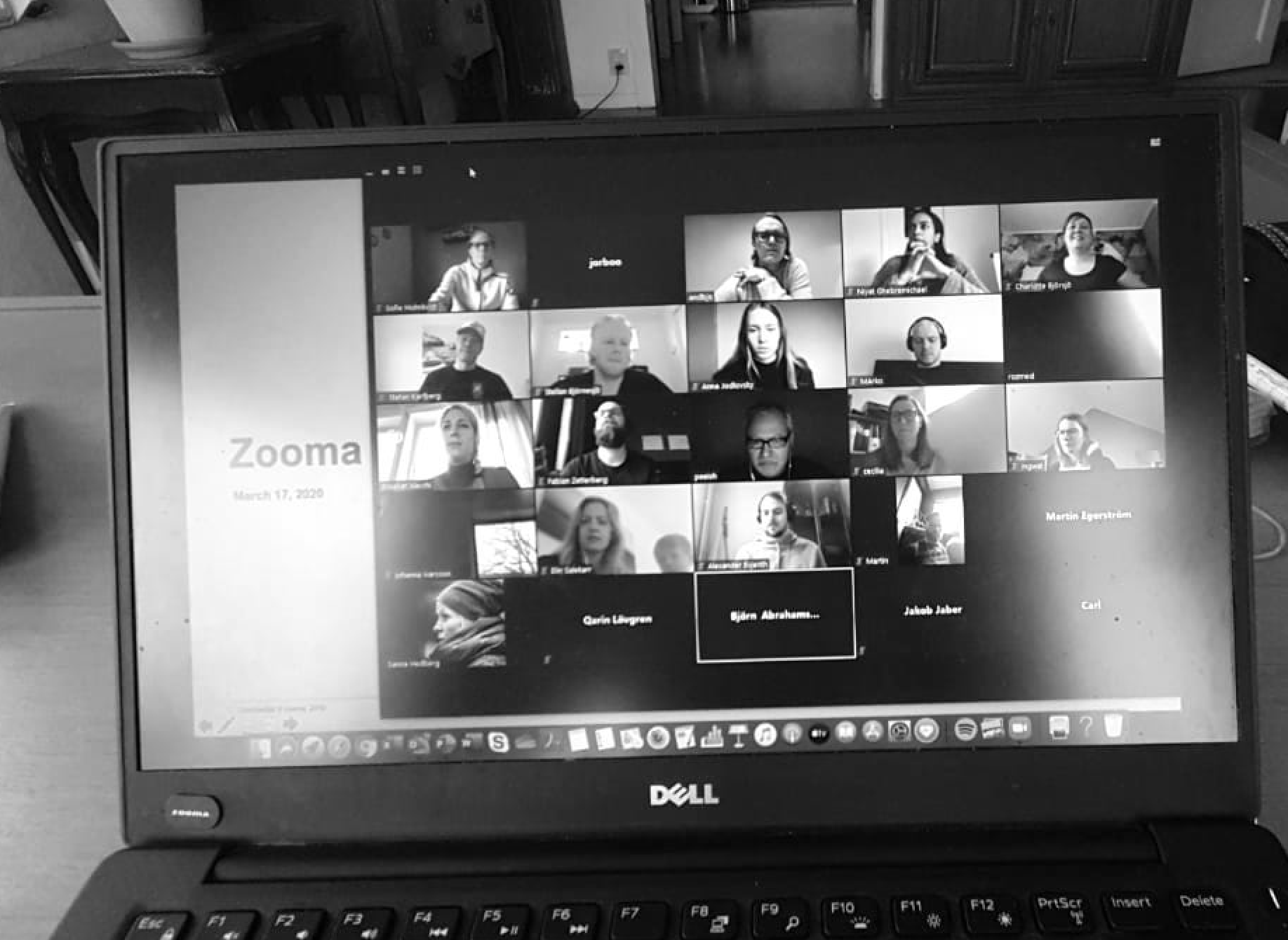 Skype
Some of us use Skype with colleagues, partners, or customers, in addition to Zoom. Skype also enables you to host meetings with groups, make international voice calls, and create group chats. However, it can only handle up to 50 users in one video call and is more suitable for smaller businesses.
Slack
Slack is very popular, and the product name has become a verb. We love to 'slack' each other daily. It offers real-time messaging and works perfectly for remote teams that need to have an open line of communication. It enables groups to have their channels without having to deal with messy inboxes full of random email messages. Slack allow many third-party app integrations such as Giphy. You can share funny GIFs with your coworkers using the integration.
WhatsApp
WhatsApp is a neat communication platform that enables you to send text messages, chats with groups, host video calls, or make voice calls for free on a Wi-Fi network.
Teams
Microsoft Teams makes it possible to communicate with your team. This is possible by email, video calls, and through an internal discussion platform where your colleagues can create posts or ask questions. Microsoft Teams is compatible with Office 365. So if your team uses Microsoft Office regularly, then this tool is for you.
Phone :)
If you want to be concise about something or explain complex ideas and had back and forth email conversations? Sometimes it is easier to use your phone. Plus it is personal and trustworthy.
Project management and tasks
You need to coordinate people, budgets, and deadlines and keep track of projects? These tools might help you to manage your projects.
Trello
Trello is an excellent tool to manage projects remotely. It is a visual project management tool, based on the Kanban methodology that is very easy to work with. Trello boards are divided into lists. It shows the stages in a project and is filled with cards. Each card stands for a specific task and can include, for example, deadlines, to-dos and attachments. You can assign tasks to your collleeagues and team members and track the progress.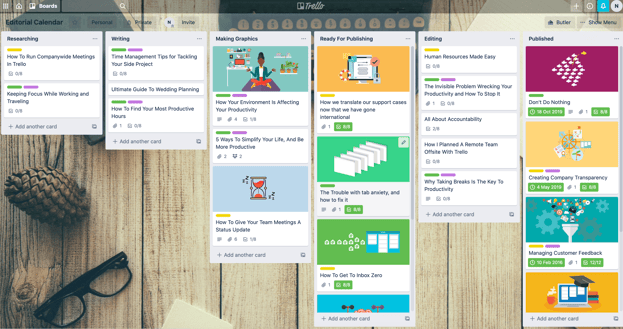 Example of a Trello board
Basecamp
Basecamp is an easy to use project management tool that helps team members to schedule meetings, arrange calendars, store documents and track tasks. All organised in a dashboard to give all users a good view of everything that's happening.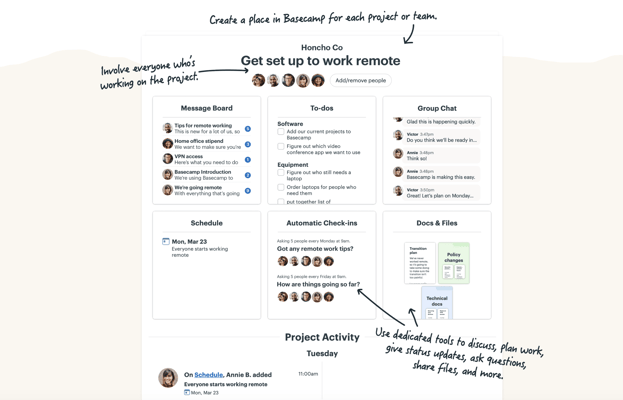 Example of a Basecamp dashboard
GoodDay
Another neat project management tool is GoodDay. It is a task and team management platform. It is a useful tool for high-level planning as well as for the continuous improvement of processes based on transparency and accountability.
Wrike
Wrike comes with enterprise-level scalability and security. It contains Gantt charts, workload view for resource management, custom dashboards, structuring via folders, projects, tasks and auto-assignment based on task statuses.
Collaboration, file sharing and storage
Sending large files via email isn't ideal. Here are some recommend file sharing solutions, as well as some collaboration and storage solutions.
Google G Suite
G Suite allows your teams to collaborate among Google Drive tools such as Google docs where users can edit each other's written work and add comments. It enables you to share large files in the cloud with your remote colleagues with ease. Furthermore, it allows you to share team calendars and create work emails through the G Suite.
Microsoft Office
Microsoft Office is the older competitor of G Suite. It enables you to download apps like Word. You can use this general suite of tools to manage, share, store, and edit documents in OneDrive. OneDrive is an online folder system for your file storage, and SharePoint includes many other features such as collaboration and dashboards.
Dropbox
Dropbox is another way to share large files. It is very successful and used by millions of people. Also, it is very simple to use: upload your file to your Dropbox account and share access to it with your teammates. Dropbox Business can be used to store files.
WeTransfer
WeTransfer is an easy way to send large files tool too. You don't need even to register for an account. It is free up to 2G per transfer. The files can only be accessed using the unique links sent to you and the receiver. With WeTransfer Pro, it is possible to share larger files and to store up to 1 TB.
Screen recording and video
Vidyard
Since about a year, we use Vidyard to record create and share videos with colleagues, partners and customers. Vidyard allows you to record yourself, your screen or both at the same time with a Chrome extension. It enables you to stay connected when you can't be in the same place.
Download the Vidyard guide now!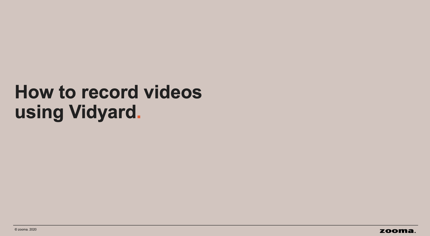 In this guide, you will learn how to record a video
with the Vidyard Chrome extension.
Jing by TechSmith
Jing is another screencasting computer program that takes a picture or video of your computer screen. When uploading the video to the web, the program automatically creates a URL to the image that can be shared with others. It is a great tool for adding basic visual elements to all of your online conversations.
Design
Sketch
Sketch is a vector graphics editor released in 2010. Sketch is a platform for digital design and enables you to create, prototype and collaborate with your team members. Sketch is only available on macOS and doesn't include print design features.
Figma
Figma provides a seamless user interface and neat features since 2016. The tool became a famous competitor to similar solutions and is the ultimate UI design tool.
The Google Docs of design: Always in sync, real-time collaboration, and works directly in your browser.

– Yeu-Kang Hua
Adobe XD
Adobe XD is a vector-based user experience design tool since 2017. Elements can be created, and the individual objects can be exported with the layout tools of Adobe XD.
Adobe's better-late-than-never answer is solid, and of course, integrates nicely with Creative Suite.

– Yeu-Kang Hua
InVision
InVision Studio, released in 2019, allowed designers to build more advanced animation and micro-interactions.
Design tools comparison guide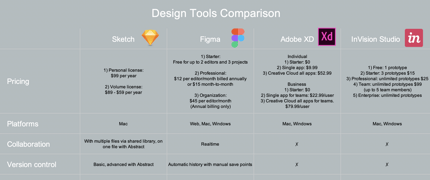 I want to download the comparison guide
of the four most popular design tools.
Scheduling and organising meetings
Doodle
Doodle is a polling tool that allows you to focus on your real work by making time-consuming tasks like scheduling and organising meetings fast and easy.
Calendly
A powerful yet simple automated scheduling tool takes the work out of connecting with others so you can accomplish more. Calendly works with Google, Outlook, Office 365 or iCloud calendar, so you're never double-booked.
Marketing, sales, customer service and CRM platform
There are many different platforms in the digital world right now. You should think about how the tools will fit in your overall infrastructure over time. Here's are some of the leading platforms.
Hubspot
HubSpot offers a platform for marketing, sales, CRM and customer service. Moreover, it provides the methodology, resources and support that helps businesses to grow better. HubSpot features give you a more sophisticated tool-set. It provides control, flexibility, and deeper integrations. All without making life too complicated for you. That's why we love HubSpot.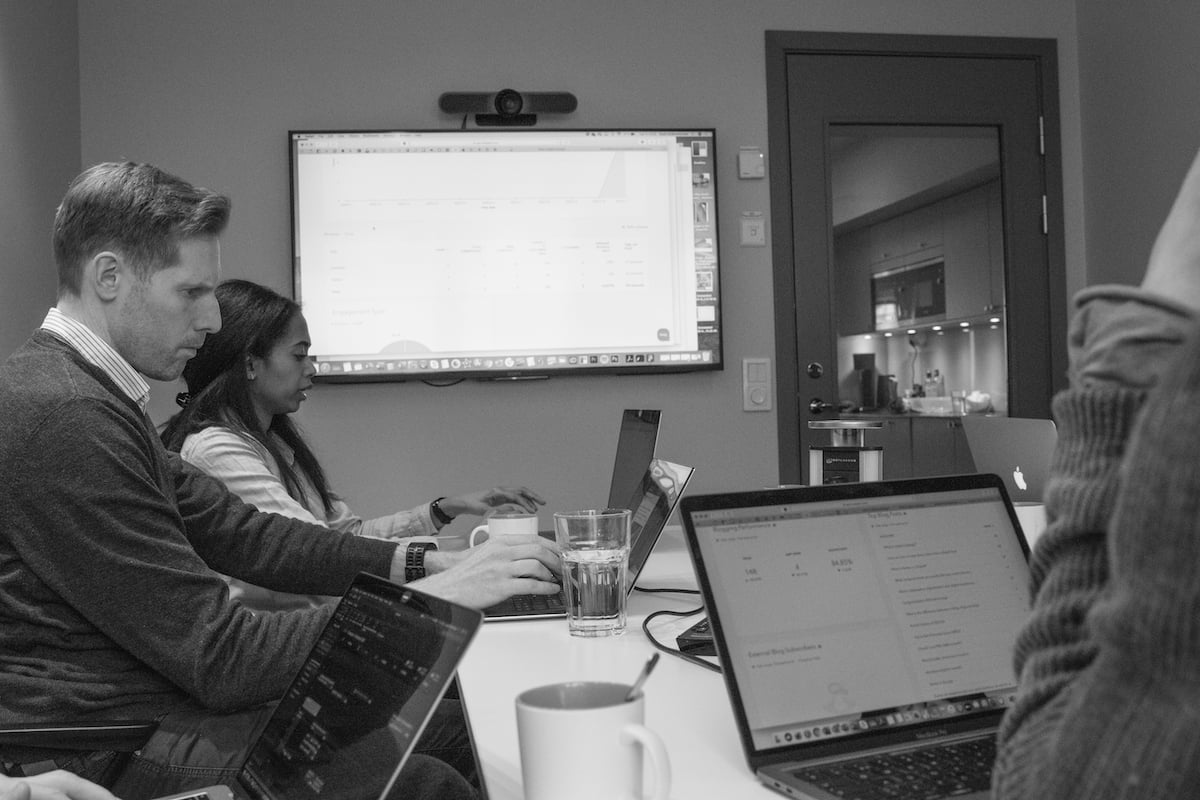 Salesforce
Salesforce is known as a CRM tool. It revolutionised the CRM software industry with its cloud-based CRM solution. Today, it is known as a sales cloud, and it extended beyond its initial product. It enables companies to build a customer-centred business–from marketing right through to sales, customer service and business analysis.
Oracle
Oracle invested a lot in the marketing segment by acquiring Eloqua, Responsys, BlueKai, and Datalogix. Eloqua is its main marketing automation platform. Eloqua aims to help marketers and organisations to manage marketing campaigns, and sales lead generation. Its features are grouped into five categories: lead management, campaign management, reporting and dashboards, as well as sales and marketing alignment.
Marketo (An Adobe company)
Adobe acquired Marketo in 2018. The platform is a part of Adobe's Digital Experience business. It includes analytics, audience profile, content management, campaign execution, advertising, personalisation, commerce and engagement marketing. The combination of Adobe Experience Cloud and Marketo Engagement Platform widens Adobe's footprint in customer experience across B2C and B2B.
---
And there you have it; some of the remote working tools we are using at the moment by all Zoomers that might help you to stay productive.
Need more tips on working remotely? Read Zoomers collective thoughts from our first weeks of working from home.