At the end of October, I attended Episerver Ascend 2019 in Miami. A three-day event packed with keynotes, roadmap updates, workshops, and networking. Here are some of my reflections from this year's event.
Episerver Ascend brought together more than 1,000 digital marketers, developers and eCommerce leaders to share strategies for driving growth through digital transformation.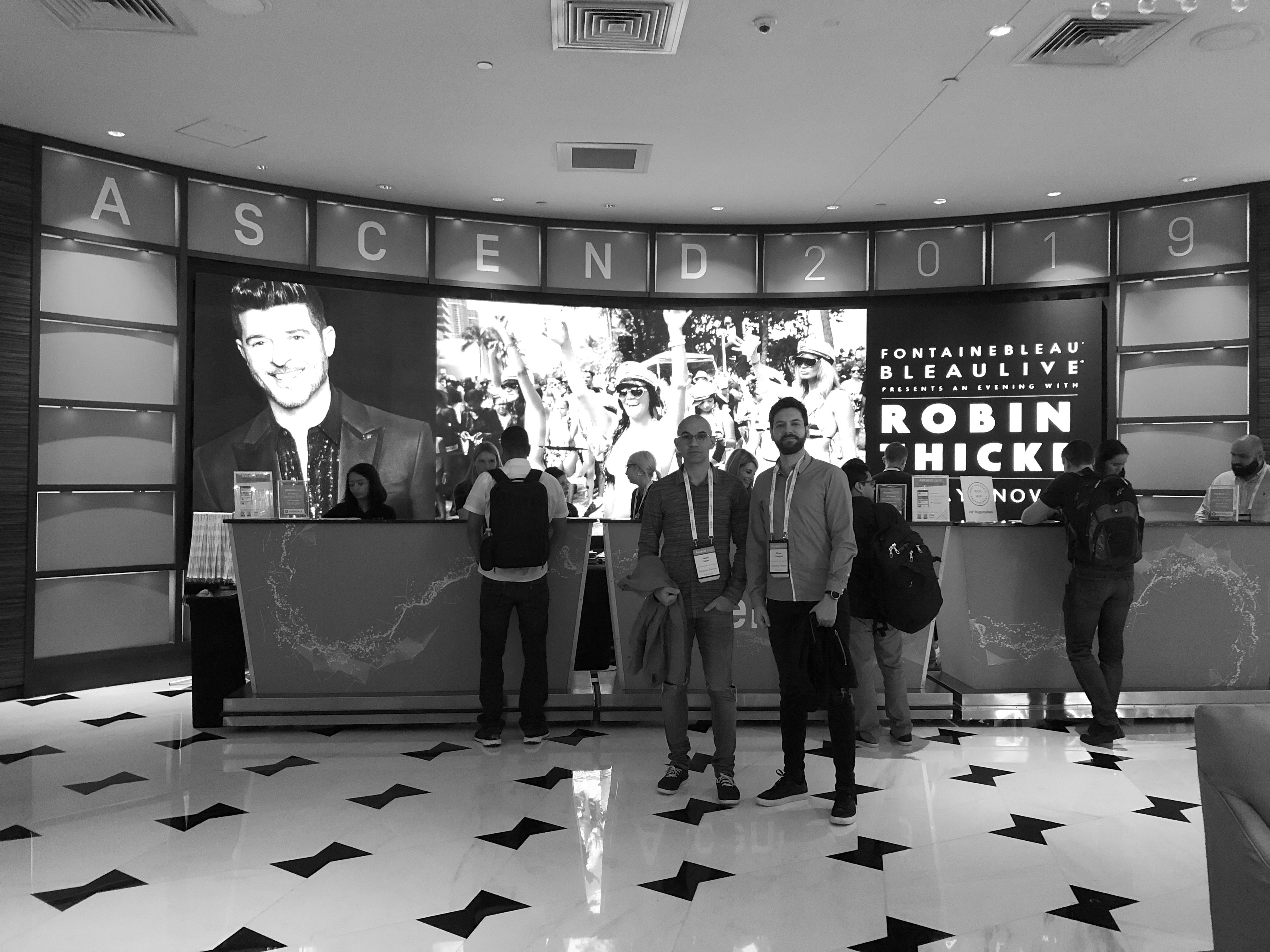 Jakob and Niclas at Ascend in Miami
The event started with a partner pre-event, where all partners were updated about the reworked partner program and the size of the Commerce marketplace—a trillion-dollar space. Over 1,400 partners were active worldwide over the past 12 months. Later in the day further insights into Episerver's strategy were explored.
Justin Anovick, Chief Product Officer, opened the main event on the first day. He told us that there were 41 releases this year, and more than 160 features have been delivered in 2019. Part of the roadmap for the first quarter of 2020 will be the delivery of cloud self-service and production solutions.
Digital Experience Platform (DXP)
A popular buzz word at the event and certainly an acronym to learn a lot about is DXP.
A useful definition from Forrester:
Software to manage, deliver, and optimize digital experiences consistently across every phase of the customer life cycle.
This is, I would say, how big CMS vendors, e.g. Adobe, Episerver & Sitecore like to be perceived today.
An interesting observation for me, as a Swede, having worked with Episerver for more than ten years, was to see Episerver, who I always thought of as a Swedish company, being perceived as an American company in the US. Some customers I talked to didn't even know about the Swedish connection.
Product Roadmap going forward
One of the biggest improvements coming next year, from my point of view, is what is called smooth deployments.
As of today, when doing deploys that contain database changes, for example, an Episerver upgrade or even a new property on a page, DXC customers (Episervers cloud hosting) are forced into a certain amount of downtime. With this new feature that can be avoided. This long sought after improvement is likely to arrive in Q1 next year.
Hopefully, the hiring of Dean Barker, a senior Content Management expert, as Director of Content Management strategy, will put even more focus on improving the editor experience within Episerver.
Episerver said the roadmap is still focused on improving existing products rather than expanding the product portfolio. Episerver has both developed and acquired new products for several years. Yesterday, Episerver acquired idio, a content analytics and personalization company. It will be interesting to see how this will be integrated into the platform.

The Episerver Product portfolio has grown over the years and is now:
We were told that they will rename a lot of the newer products to more logical names.
New features
A number of recently added features were also presented.
Some things to

notice are the remade

UI

.

The b

iggest change is

changed

colours, but some adjustments to the overall

UX

has been made as

well.

Inline block editing is also a great new feature. This allows a user to

edit blocks directly via the page.

With that also comes a new feature to publish multiple blocks at once directly from the page.



Inspirational talks
I was glad to see that Episerver addressed the issue of gender equality in the tech industry. There was a women's panel with leaders from big tech companies that discussed how they worked on this issue. For example, we learned from Lani Phillips Vice President of Microsoft's US OCP Channel Sales, how Microsoft is working internally with training all their management in how to work with inclusion.
Finally, the keynote of the last day was from Amy Purdy. She told her moving story going from a normal American teenager into a bestselling author. The story was about how she recovered from a critical injury, which involved her losing both legs below the knee, and how she worked her way back to make it into the US Paralympics snowboarding team. This was a truly inspiring story of how we value life and how we tackle setbacks.
Subscribe to The Onlinification Blog below to get new articles delivered right to your inbox.