We are back from the Mobile World Congress where Zooma just spent 4 days again this year at MWC 2016. For many people coming to Barcelona, the event is all about new technology, meetings, fun ideas and devices. But in fact, what's discussed and on display there is a moment of an ongoing evolution leading to a new kind of future. Read this post to get a better view of how these new developments will shape your future.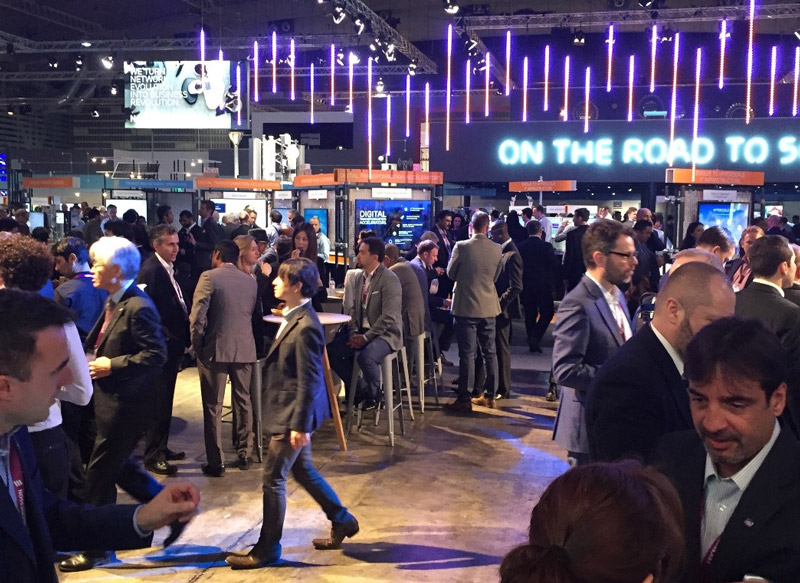 It is interesting to think about the current state of the mobile industry and the connected world we live in today and how far digital disruption has come.
Seemingly everyone is online – yet 50% of the global population still lack internet access.
Enterprises are becoming more digital – yet few companies have started the full transformation journey where new services can be brought to the market much more quickly.
Internet of Things is on everyone's lips, and we will soon see billions of cars, robots, houses, pets etc. being connected – yet still only about 400 million non-phone devices were connected by cellular at the end of 2015 (source: Ericsson mobility report). It will grow to 15 billion connected by cellular and other technologies by 2021. It is said that by 2017, 50% of Internet of Things will originate in startups that are less than 3 years old.
So really, a lot of things will happen in the coming years when data traffic will tenfold, Internet of Things will explode and more and more will become digital services and software with totally different use cases. Much of this you can get a better understanding about at the event. Let us show you a few examples:
New chip technology
"Mobile is disruption" was discussed in a panel debate with three industry leaders; Intel, Ericsson and AT&T. The combination of mobile, connectivity, software and the cloud is disrupting everything. One of the things we saw was a small chip showcased by Intel. It costs less than 10 dollars and has six full access sensors, an accelerometer that can measure G-force, WiFi, low power Bluetooth, artificial intelligence engine - and it is as powerful as a 5 year old Pentium PC. It is used in things and on people. Collecting data from these can enable all sorts of services with connectivity and the cloud. See the fun and inspiring panel debate here, with many more innovations revealed by Ericsson, AT&T and Intel.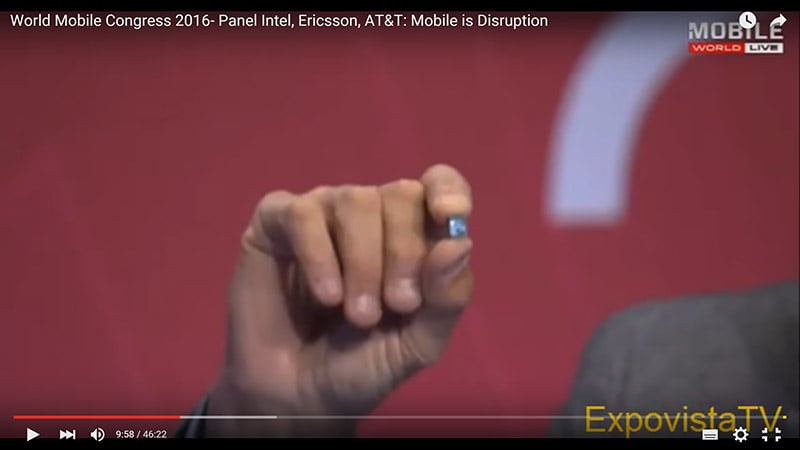 New industry applications enabled by 4

G

and 5

G
Platooning is a concept where trucks drive together in close formation with the possibility to enter and leave. It greatly improves fuel economy. Thanks to sensors and 4G/5G technology the risk of failure is very low. This is one of 15 projects Ericsson is doing with other non telco industrial companies. There are also projects on connected robots with ABB, and connected machines with Boliden where research collaborations are taking place. See a video from Scania describing the concept here.
New use cases and business models
Knowing how long it will take for the bus to arrive is something we have seen for many years. At this bus stop you can also check temperature and air quality tracked by sensors connected to the cloud. In addition you can use the large screen of the bus stop to play games or for smart city applications. The bus stop becomes more capable and intelligent and can support new use cases, smart city development and different business models. See video here which also talks about IoT applications for water cleaning and connected cows!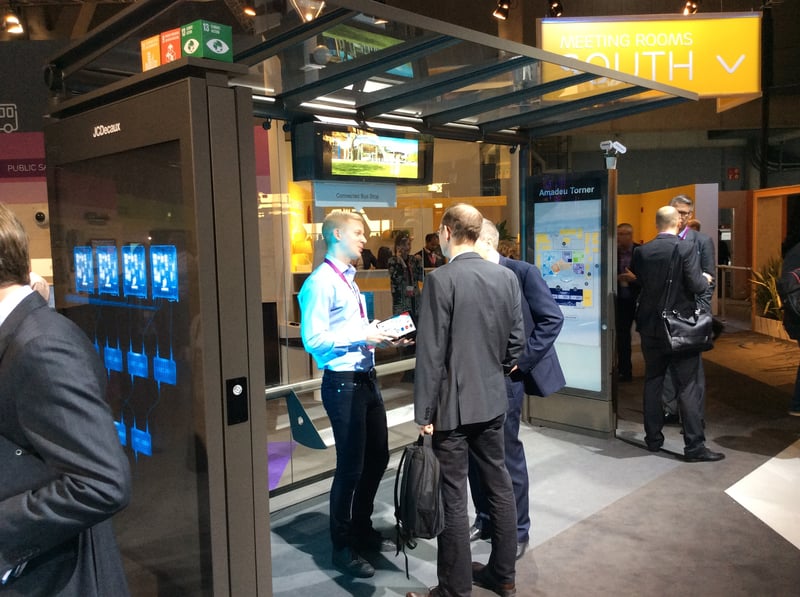 Volvo Cars is at the forefront of new digital innovation and digital keys replacing physical keys is another example of how new business models are enabled. It creates a foundation for car usage and car sharing car in entirely new ways. A car is used for the time it's needed and according to mobility needs, with insurance and other practical details handled automatically. See press-release from Volvo Cars here.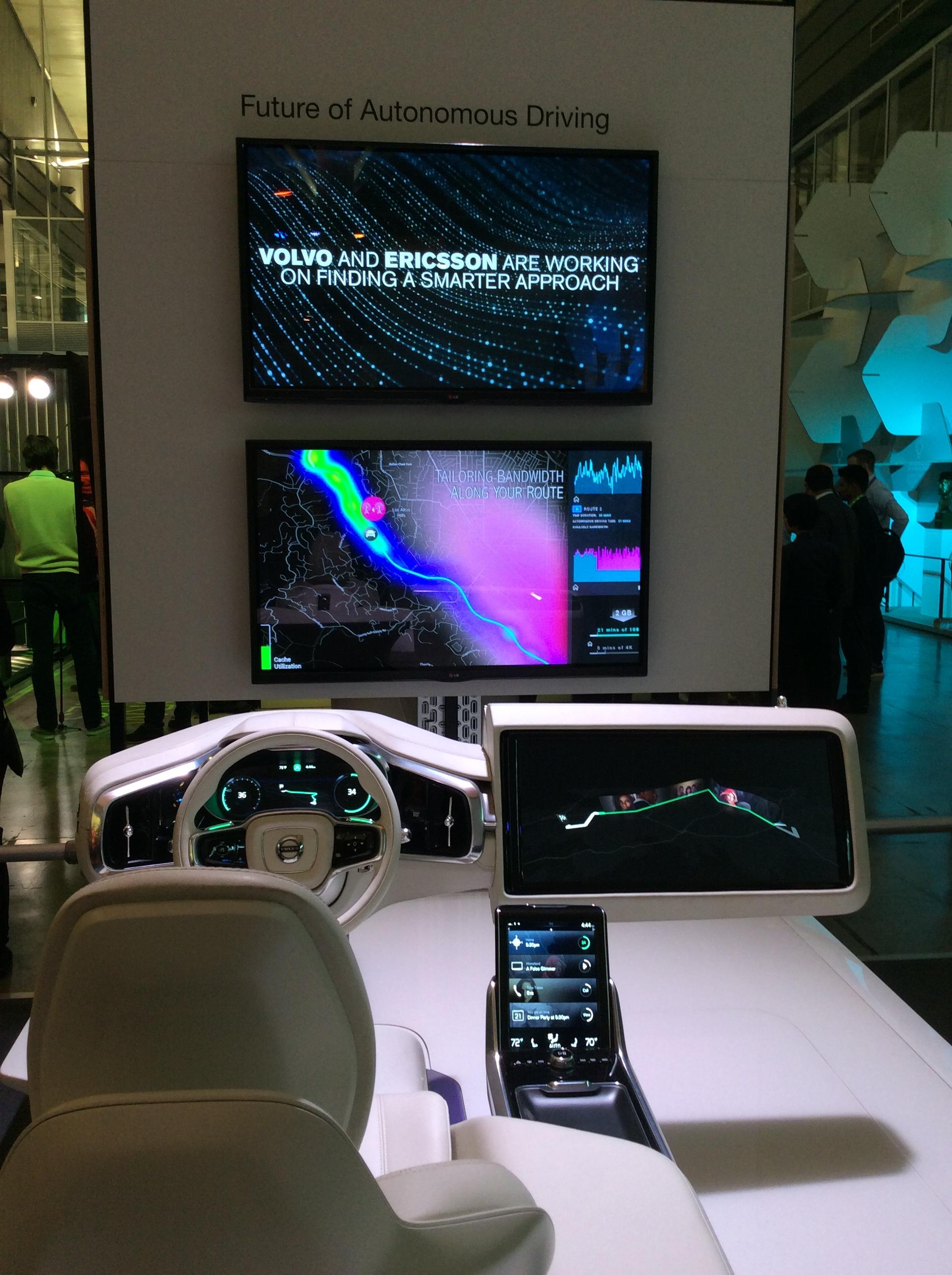 New resources
At IBM we talked to some of their people designing digital services. We learned that Watson – IBM's super computer - have a range of APIs available as a service that can be used and that brings cognitive capabilities that can let your app analyse, reason and respond.
New type of "screens"
While Internet of Things, Cloud and 5G were the main themes on the technology side this year, Virtual Reality screens (VR) were seen widely on the consumer side at MWC. Facebook's Mark Zuckerberg said people have watched more than 1 million hours of VR content on Samsung Gear devices. Samsung had this VR theatre and you had to wait in a long line to get the experience. In the GSMA alliance area ski jumping using VR screens also created lots of excitement.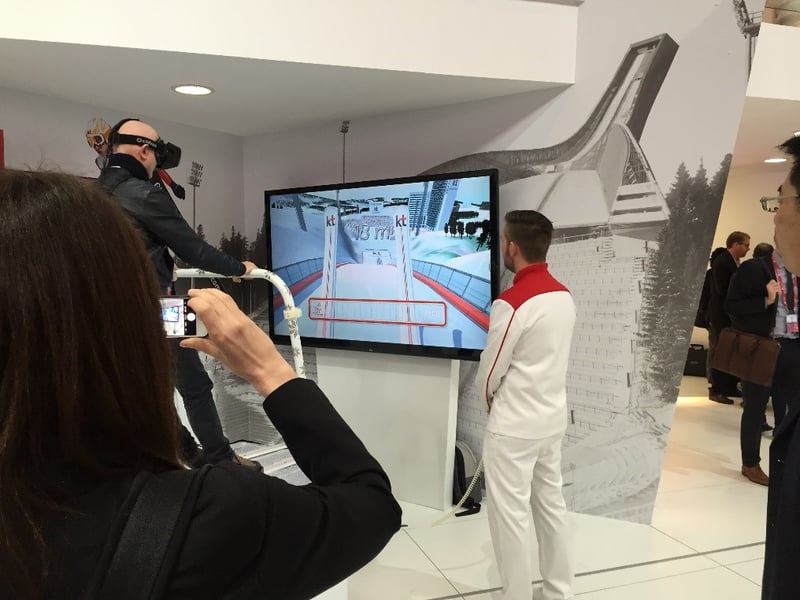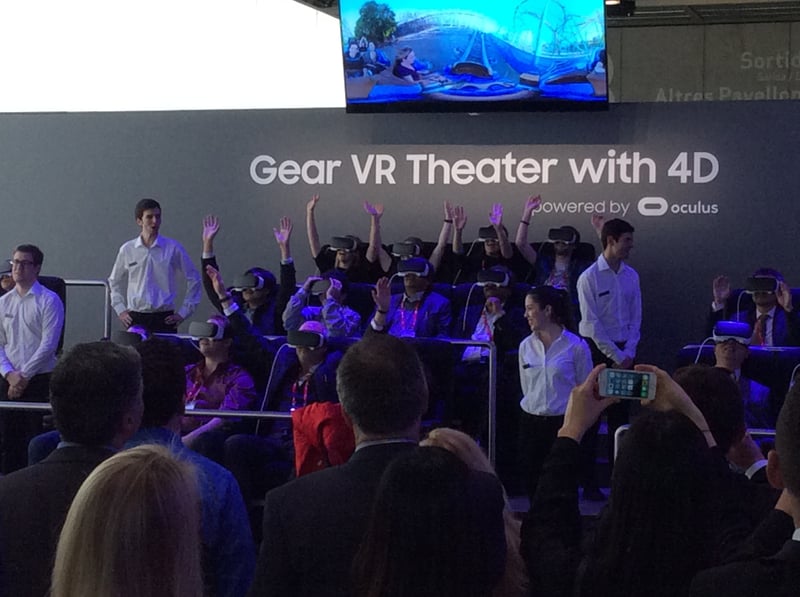 Some of the coolest things on the consumer side is well described in this summary from CNET, "The top 5 most interesting things from Mobile World Congress 2016".
What to do about this? Talk to Zooma if you want to learn more about new innovations in digital and how you need to think about it.