Last month Zooma attended the Mobile World Congress in Barcelona. It is the world's major gathering for the mobile industry and a mini universe for all things mobile. Zooma has been attending the conference for many years and this year it was as big and as fun as ever with a plethora of new and innovative mobile technology and business concepts displayed everywhere. Here are some reflections and thoughts on what we saw and heard.


Making the internet better performing, more accessible and more affordable
We want faster networks, cooler devices and a great user experiences without interruptions. Personally, I want my next mobile device to incorporate wireless charging, energy saving features, 4G advanced functionality (LTE A with up to up to 20 times faster than current LTE) and biometric security. At the conference we learned that all this is in the pipeline and it will fuel ever more data usage. Soon I will not have to worry about not being able to join a video conference using my phone or having a great shopping experience enhanced by mobile technology.
While these are things of real improvements for us there are still many people - two thirds of the world's population around the globe - completely lacking data access. This was addressed by Facebook CEO Mark Zuckerberg in his key note speech. He suggested that just like anyone can call 911 everybody should have free access to basic data services like weather, jobs and of course Facebook. Interesting idea! In a number of collaborative innovation projects internet.org technology providers is working with operators aiming at connecting everyone. Along that road, efficiencies will have to be made to apps, networks and devices. On their part Facebook has reduced the daily amount of data processed by a Facebook user from 14 to 2 MB. To help things along Ericsson has set up a lab at Facebook grounds where third-party developers can test their apps and see how much data they are using.

Transforming industries
Last year there were a lot of focus on transformation in other industries and this year we actually met those industries and saw the game changing services and applications they are using or planning to use. Many car manufacturers were present as well as health, consumer, retail, finance and manufacturing. We believe that Ericsson and Volvo are on to something great with the showcased vehicle cloud platform that will enable many new services, for example the innovative food delivery to car service, which has brought a lot of attention. This will not only connect the car to the wireless infrastructure but also make stronger ties between the car owners and the car companies.
Another example is Coca-Cola that said in one of the panel discussions around Mobile Marketing, that as the main sponsor of the FIFA world cup trophy, they are able to tell the story in terms of content and communication in new ways. Mobile has become a key enabler for Coca-Cola to reach and connecting with millions of people even before the event kicks off. The mobile eco system fuels all of this. Lots of new technology will redefine the experience at events and stretch the value of these events.
Data and the Cloud, i.e. processes or IT business service provided as a service, are playing a key role in this transformation. It will enable new services to be delivered more efficiently to end users and networks to work better. Security and trust around Data and Cloud, is really important and those that will get it right will build trustworthy brands. As IBM CEO Ginni Rometty points out in her key note speech, real interesting things will start to happen for companies that use Data prescriptively, some even exploiting the time value of Data and use it to launch new services, improve their business and overall create a smarter operation.
Wearable devices
Last year we saw the first wearable devices on display, this year there were announcements and products on showcase from all device manufacturers. These devices use a new version of Bluetooth low energy and will transmit bio data to your smartphone. Typically it can last four days without charging. Some examples below:
SAMSUNG, Gear 2 Smartwatch, using Tizen operating system (OS)
SONY's wristband has no display and all the information is fed into a Lifelog-app
ORAL B, Connected Toothbrush is a tooth brush with Bluetooth (4.0). A sensor tells you if you brush too hard or too short.
Connected t-shirt, in the t-shirts there are four sensors, including pulse acceleration and position (GPS).
Some of these products have the potential to be life-saving and/or it will just bring about a more healthier and awesome You, as put by Fitbit, one of the early players on this market. Our guess is that you will soon see many people wearing these things. At least for a while and then they will become integrated into other mainstream products. We also saw new technology demonstrated by Immersion which gives tactile feedback and effects for wearable devices.
If you would to know more and discuss how these trends and development will affect your business, please feel free to get in contact with Zooma.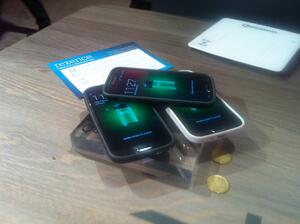 Wireless charging - soon to be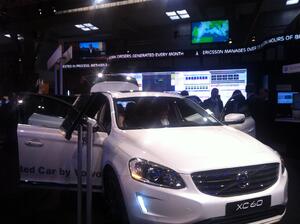 Connected Vehicle Cloud - by Ericsson and Volvo Cars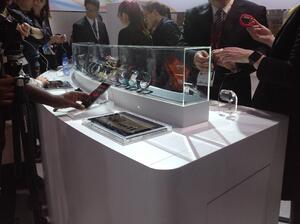 Lots of interest for wearable devices at Sony, Samsung
and other vendors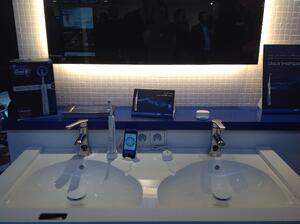 Connected tooth brush, Oral B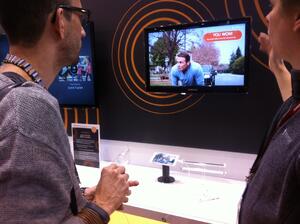 Tactile technology used for games and wearables