Are there humans behind the numbers or just random John Does in a procurement department? I believe they are humans, and that gives us the chance to interact with them from a Human-to-Human (H2H) perspective. I want to give you 4 critical parts in how to succeed with Inbound thinking and how to apply it to your Business Customer Experience.
The benefits is also the challenge. Every customer is unique and so should your customer care be. As far as possible, of course. The online presence of B2B companies is rapidly transcending from the obsolete silo thinking with a product catalogue and a phone number towards a horizontal journey with a need and a goal.
The best result I have come across, is in the "Medici-effect" of a team containing both sales reps and marketing people from within the company and an Inbound Strategists coming from the outside. With findings from well mined customer data you'll be able to exploit the uniqueness of your customer instead of experiencing it as a burden.
B2B customers do not visit your website because they want to, they do it because they have to. They are just doing their jobs and it is something they do every day. From dawn till dusk. If they find an easy road, I can assure you, they'll take it. And if you own that road, it will become a huge competitive advantage. Not only are you solving your customers problems, you do it in a faster and leaner way than your competitors.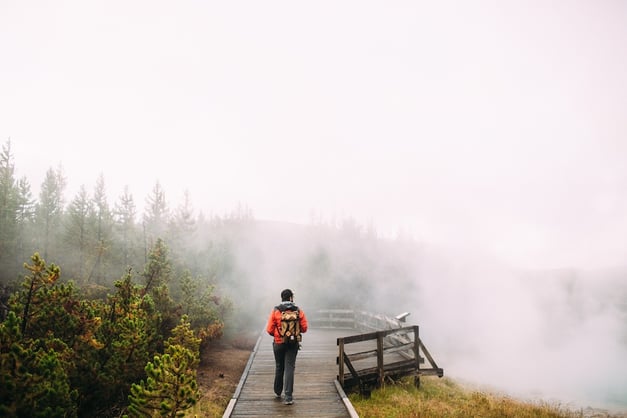 Design customer experiences horizontally from the perspective of the customers' needs and goals. If done right, customers come to depend on your solutions to get them through their day. So they will come back. The quantity of steps for each customer will vary, depending on whom you are serving. It's about breaking down and mapping out with a kind of bird-perspective to define that journey.
Involving the broader business
The Inbound way of thinking involves the whole organisation and that is a key factor for success. If you want to shift from just "companies selling to other companies" and sales being the most important thing to an improved Customer Experience, you need to have a cohesive approach. An example is to tweak your metrics and link Customer Experience to financials. You will then get your own proof of concept, involve more employees and increase the understanding inside your organisation. Also remember not to neglect your own business goals in the hunt for serving customers. Find a mutual exchange of values.
Let's get going and continuously improve
The wrong way is to start your Customer Experience transformation with a delivery date 2 years ahead. Not doing anything is worse than do something right away. And don't assume you have delivered enough customer value. Commit to a process of continuously renewing your value proposition. Recognise the dynamic nature of markets and brand loyalty.
Your online presence has created audiences and they are on a journey towards solving a problem. How will they react to your solution? Remember to make your customers' job effortless and efficient!
If you are looking to improve your own customers' experience...