Instagram stories are increasingly popular among companies. Half of the businesses on Instagram have created at least one story during a month. Has your business caught up?
Social media stories
First introduced by Snapchat back in 2013, the format has ever since been widely implemented across social media platforms. In 2016 Facebook introduced it to a broad Instagram audience until it finally rolled out stories in 2017 itself, as well as for its messaging platforms WhatsApp and Facebook Messenger. Finally, in November 2017, other platforms—Medium, Skype and YouTube—with comparable story formats followed.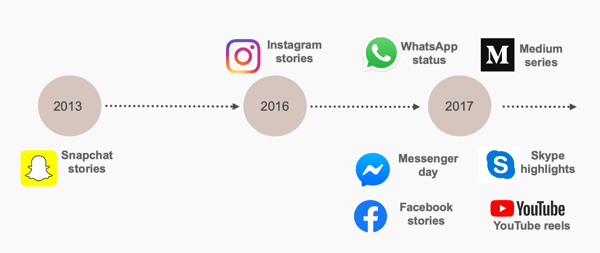 Launch of the stories function on Snapchat, Instagram, Facebook, WhatsApp, Medium, Skype and Youtube.
According to Statista, 500 million users, enthusiastically use Instagram stories every day. All of Facebook's stories—Instagram stories, WhatsApp status and Facebook stories—have surpassed Snapchat in terms of daily active users.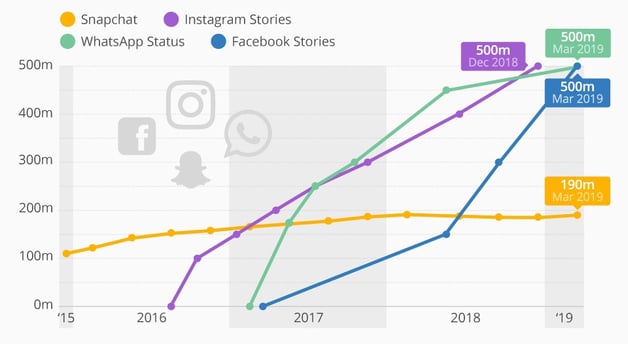 Daily active users of Instagram stories, Facebook stories, WhatsApp status and Snapchat.
What are Instagram stories?
Instagram stories is a feature of the app allowing users to post photo and video sequences that disappear 24 hours after being posted. In contrast, posts are placed in the feed and are not automatically deleted in your profile. If you don't want your story to expire on Instagram, you can archive it or even place it on your profile as a 'story highlight'. Instagram stories are placed very prominently on the top of the home screen.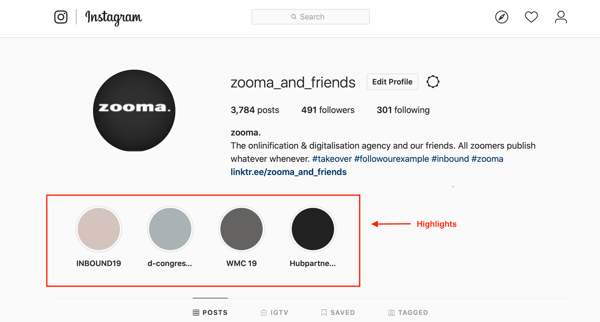 Example: Instagram story highlight on the Instagram account of @zooma_and_friends.
Instagram stories
for business
More than 1 billion Instagram accounts are active every month, and 90% of accounts follow a business. Instagram is used by more than 25 million businesses every day. One-third of the stories come from brands and companies (Instagram internal data, January 2020). Instagram stories present great opportunities for everyday communication with customers and to engage with potential ones. They provide an authentic and speedy way to engage with your audience.
Instagram stories enable you to share behind-the-scenes, real-life and less-polished images and content—stories of everything that's happening in your business.
—Anders Björklund, Founder and CEO, Zooma
Benefits
of using Instagram stories
Below are the main benefits of Instagram stories for your company or brand.
Get more visibility using stories
Stories are displayed at the top of the app, and the latest videos appear at the front of the app, ensuring that they are always very present. Accounts that regularly share stories will always appear at the top of the app and will be in the constant field of vision of their audience.
Increase interaction with users
Stories are all about entertaining with creative and authentic content. And this content can be made more individual, attractive and animated by a variety of features, rather than by using pictures or videos as regular contributions. Functions such as quizzes, polls and stickers offer another way of getting in touch with your audience, unlike the posts in the feed, which only allow a reaction or comment.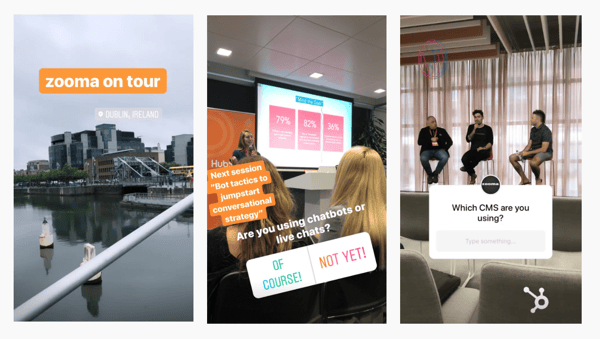 Example: Instagram story on the Instagram account of @zooma_and_friends.
"Marketing is no longer about the stuff that you make, but about the stories you tell."
—Seth Godin, Author and Guru
Exclusivity — only available for a short time
Instagram stories use a well-known tactic from marketing psychology: scarcity. Since the stories are only available for a limited time (24 hours), they appear particularly exclusive to the user and encourage them to prefer the content rather than others and consume it quickly. While this marketing tool also carries a risk with real existing goods, if the goods are not offered exclusively, it can be used with Instagram stories without hesitation and with particular success. However, the prerequisite for this is that the user behaviour of the target group is known and the content of the stories is adapted to this behaviour.
Free social media calendar template 2020
Ready to plan your social media stories for 2020? Use this excel template with events and holidays such as 'International Day of Education' or 'Thanksgiving' for 2020 already entered for you.
Read this related article if you want to know how to drive Instagram traffic to your website, blog, or any other page read the complete social media guide.