"How shall I think when I want to exhibit at a trade show?" I get this question quite often from our friends. Below you find some advice on how you could think and act to get tangible results when exhibiting at a trade show.
Trade shows are events organised around a specific industry or type of product, such as the World Mobil Congress or IAA for commercial vehicles. They are an excellent opportunity for companies to build new contacts, to network and to demonstrate their latest products and services. However, without careful planning, these events can be a waste of your time and money.
Trade shows are still relevant
With digital opportunities and diverse online retailing capabilities, many marketers forget the value of personal interaction. There must be a good reason why almost every major city has convention centres. Although we are all benefiting from the digital transformation, trade shows are still significant. They are powerful platforms to take the customer experience to a higher level. Your exhibit space is much more than just a place to greet potential and existing customers. It's an interactive space where your current and future customers can get to know your business, your products and your people. Trade shows are an opportunity for your audience to get first hand experience of your offer. Thus, trade shows are still valuable in times where the power of buying has shifted—from the seller to the buyer.
Define your purpose of exhibiting
The first thing you should think about is the overall purpose of why you should exhibit at a particular trade show in the first place. The main reason to exhibit on trade shows should be to connect with potential new customers, and to strengthen the relationship with existing customers, rather than just presenting your products or services. Often exhibitors participate at a trade show to showcase new products and services but even more important is to put the customer in the center.
Be specific about why you are exhibiting at trade shows and what you want to achieve. For example, think of:
How many new leads should the event deliver to get a return on your investment?
Will ten qualified leads be enough to justify the total investment of the exhibition? Knowing what a new customer is worth and how many qualified leads are needed on average to gain a new customer is crucial.
Keep your customer in focus
It is crucial to understand attendees and their reasons for attending a trade show. If you do not know what they want out of their trade show experience, then you cannot successfully meet their needs. Based on our experience, attendees come to trade shows to get exposure to new trends and gain knowledge. They want to see what is new and have a chance to interact with experts in their field.
As an exhibitor, ask yourself the following questions in advance:
Do I address my target group?
How is it to be "them" and to be in their situation? (The ones you are trying to reach, sell to, or create a relationship with).
Are my customers expected to attend?
Do I have trained and sufficient personnel on site?
How can I win new leads and customers?
Use the inbound methodology
Planning is essential for the trade show to be worthwhile. The preparation begins long before the event takes place. If we are planning events for our clients, we use the same approach as we use for online activities—the inbound methodology.
"The inbound methodology is a circle. It focuses on how to build a flywheel that attracts, engages, and delights — creating an inbound business that puts customers first."
Source: HubSpot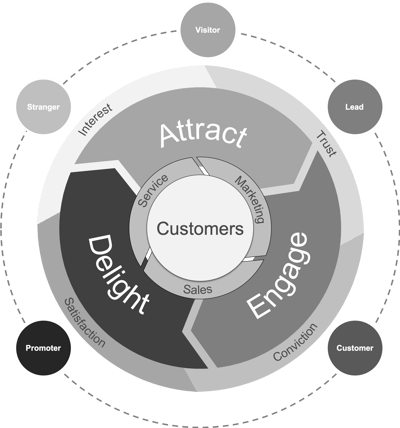 Attract your target audience
First, think about activities for how you can attract visitors to register to attend the trade show. Focus on your buyer personas.
Write relevant articles for your target groups.
Create landing pages for visitors to register for your event.
Offer competitions to attract visitors to your booth

.

Share posts in your social media channels to attract attention to your event.
Engage with your leads
Now it is time to engage with your leads.
Inform them about the preparations they have to make before the event, e.g. agenda, location address, nearby hotels.
Provide them with a contact person and answer all their questions.
Ask in advance which topic or product they are interested in.
Contact your leads and try to book meetings, e.g. at your stand or during lunch. Create a list with all leads and qualify them.
Close the deals and convert your leads into customers.
Delight your customers
The trade show usually does not end on the last day of the trade show. After the trade show, the goal is to have satisfied customers and turn them into promoters. Only happy customers will recommend you—and hopefully generate more visits to your booth at the next trade show you exhibit at.
Stay in touch with customers and p

ublish images and videos from the event.

Have you created a presentation or demo for your event? Turn those

into downloadable content offers.

Use landing pages to capture more information.

This is an excellent way to repurpose content that you have already created for the event.
---
I have compiled these tips in a PowerPoint presentation. Feel free to download the presentation below.