One of the most challenging things in project management is to get a quick overview of the project and at the same time easily zoom into details in the project plan. The Kanban process can help you run projects and project teams smoothly and an online tool can support the process even better.
There are several online tools you can use to get going with the Kanban process in your team. Basecamp, Evernote, Wunderlist and Asana are some good examples that you can test before you decide what tool to choose. In this post, I will focus primarily on how to get going with Kanban in Trello—but you can apply below way of working in other tools as well.
What is Trello?
Trello is a cloud based tool that is free to use with as many colleges you want. If you use Chrome as your browser there are also a lot of plugins that complement Trello.
How to get started
Start your account at https://trello.com/signup

Prepare your Kanban board with 3 lists: 'To do', 'Ongoing' and 'Done'

Create all tasks that need to be done and add all information needed on each card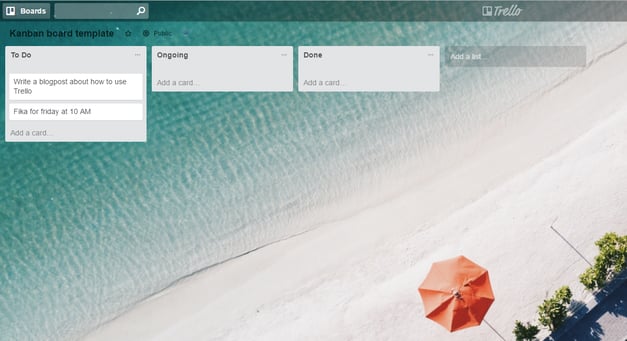 How to work with the board
When a person starts working with a task, the card is moved from 'To Do' to 'Ongoing' and the person adds him/herself to the card. Each card should have one, and only one, responsible person (DRI = Direct responsible individual).
As long as the project member works with the task it stays in 'Ongoing' phase.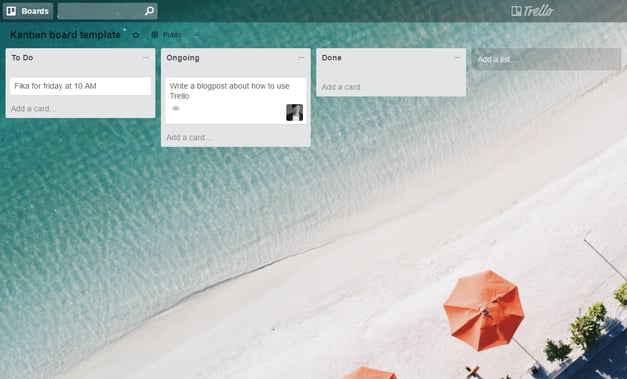 When the task is considered done the card is moved from 'Ongoing' to 'Done' and the project member should then add a review person (typically a project manager) to the card. The review person now has 2 choices, reject or approve the task as 'done'.
If the task is approved it you should archive it, but if it's not approved move the card back to ongoing and replace yourself with the project member responsible for finalising the task. You should leave a clear comment or details on the card so the person assigned to the task knows what to do.
This process continues until all tasks in the project are completed.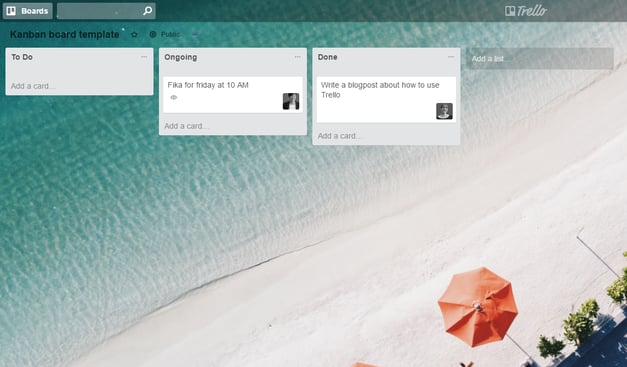 As long as there are cards in 'To Do'-list it's easy for everyone in the project team to start with new tasks and they do not need to wait until their tasks are approved or rejected.
Now you are ready to start!
Collect your project team and start working. You will all learn by doing. Before the team starts, make sure that everyone knows the goal for each task and clarify how to work with the board.