If you want to monitor your brands online presence, and see how you are progressing, there are tools that can make a real difference, help decision making and start new conversations among internal teams.
There are a lot of different tools that can help you track your online presence and most brands today use some combination of tools to monitor how they are progressing. One example is Zooma's friends at Lindab who have started to use a tool that helps them to track their online presence in real-time. They say - "We are now keeping track of our online activities in one simple dashboard. While there is a fee for using the tool, it gives us a large amount of services out of the box as well as the possibility to configure our own widgets."
Lindab has a large display on the wall where their communications team sits which show the results of their online presence in real-time. It makes key data available to many, all the time, and at a glance.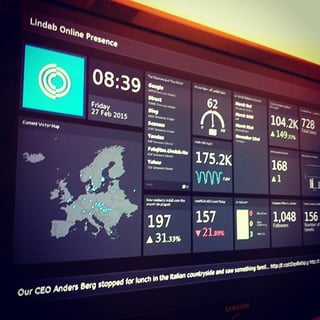 The tool Lindab is using is Geckoboard developed by a UK based company. Geckoboard pulls in data from different sources and display real-time figures and diagnostics from the sources, for example Google Analytics, LinkedIn, Twitter, Salesforce, Basecamp, Hubspot and Facebook. More than 80 sources are available and some 1500 companies are using it.
Contact Zooma If you want to know more about Dashboards and how to monitor your online presence!