What is a Marketing Automation System? Well, you could say that typically it's a cloud-based software platform (although some platforms also offers an on-premise option) that improves working efficiency for marketing and sales departments by online handling of multiple channels—including offsite channels. And it automates repetitive manual processes. Put simply, it does a lot of the marketing and sales job. But how does it work?
Marketing automation is also a common label for a software that assembles and consolidates the various parts of such a system into a single tool. Many tools are using 'marketing automation' as a decoy, yet they provide far from all the functionality you should expect from a true marketing automation tool: Email, webinars, integration with .com/.xx, CRM integration, lead scoring, lead nurturing, form design, page design, A/B testing etc.
This is how it works
Imagine someone is googling and ends up on our .com. Now the marketing automation system knows someone's there. When the visitor subscribes to something or wants to download something of specific interest, she fills in a form and the automation system gets an identity for our visitor. By matching this identity with the cookie in her web browser, it becomes connected to the visitor's other behaviour and actions on our .com, and these combined actions form a pattern and can generate a score. After a while we know the visitor well enough to have an idea of her interests and we're able to actively propose content that matches her profile, i.e. content that's relevant to the individual. When she in turn has consumed a certain amount of content, and has released further information about who she is, she's converted into a marketing qualified lead and, accordingly, ready to be handed over to the sales department. Abracadabra!
Is it only about marketing, really?
No! The system replaces much of the traditional and tedious sales work. It lets you identify and connect with warm leads interested in your offering, and help you explore those opportunities that are most likely to become new customers (or existing customers that are ready to re-engage). It also provides you with a vast amount of insights and business intelligence on their behaviour and interest, which means you become much better placed to advise them throughout the customer buying cycle. So it's as much a sales tool as a marketing tool!
When implementing an inbound strategy and a Marketing Automation tool, it's a common mistake to address the marketing department only. In fact, marketing and sales should be aligned and cooperate for effectively reaching the common goals. Sadly, far too often I see companies where sales and marketing departments don't cooperate.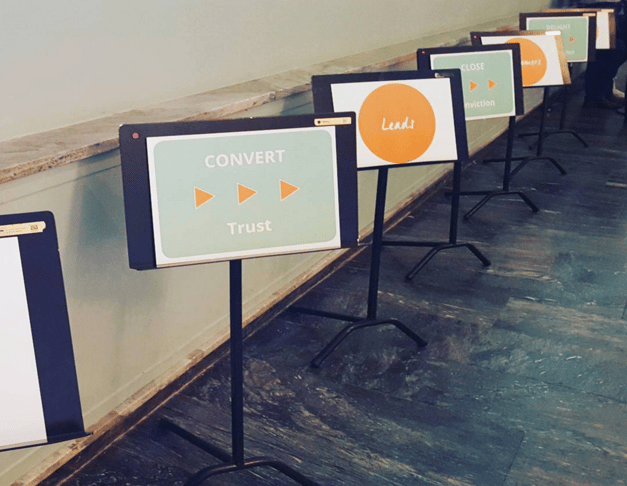 'Marketing Automation is not only a tool—it is a change of mindset!'
When attracting new visitors to your site and converting them to leads and finally customers, it should be natural for the sales and marketing departments to work together as one. HubSpot, one of the leaders in marketing automation, have even put a name on such 'new' department—the Smarketing department... Basically, we need a change of mindset here!
How do I choose a Marketing Automation System?
Now you consider a Marketing Automation System to help you generate business, but which one? Choosing the optimal system could be tricky, so I leave out the details for now, but as a general advice you should have one with good potential for integration with other CRM and CMS platforms.
Which are the options?
There are several systems available on the market. Here are some of the most popular.
Marketo


Marketo offers a variety of versions with different functionality for both small and large companies. Most Marketo customers are in B2B and work with complex sales cycles. From a technical point of view, the platform is quite complex and requires much resource to set up and manage. For that reason it is also most suitable for companies that have an advanced and complex Inbound process in place.

Pardot (Salesforce)


Pardot is now part of the Salesforce Marketing Cloud offering. Most of Pardot customers are medium-sized companies. It is focused purely on marketing automation and is thus not an all-in-one solution. Hence, it is best suited for companies looking to plug a marketing automation tool into an existing ecosystem of other software (e.g. Salesforce).
HubSpot


HubSpot covers the entire flow of the functions required for this type of tool and is therefore more of an all-in-one inbound platform rather than purely a marketing automation tool. Most HubSpot customers are small and medium-sized companies but an increasing number of large companies have also started to use HubSpot in recent years. The tool is also known to be less complex to manage than its competitors.
Eloqua (Oracle)


Eloqua, a part of Oracle Marketing Cloud, is one of the pioneers in Marketing Automation. It is mainly focusing on large companies and offers a high degree of customisation and complexity. As such, it is most suitable for large companies looking for complex implementations and integrations (e.g. with other Oracle systems).
Correctly used, together with relevant content, marketing automation is an efficient way to lead the customer in the decision and buying process. However, marketing automation should always be combined with an inbound strategy and a content strategy to ensure that it is relevant both for the visitor and for your business!
Do you need help to evaluate which Marketing Automation System would best suit your organisation? Just get in touch!