Today, online marketing and communication is about more than your .com, a few login protected areas, and being present on social media. Many decision-makers are frustrated by how they should manage, prioritise, and align everything they do online. In response to this Zooma has created the Zooma Online Grader.
You need to be aware of how your online marketing and communication impacts your entire sales and customer satisfaction. Zooma Online Grader does this by looking at all aspects of your online marketing and communication efforts. It lets you know where you're succeeding and what you need to spend more time improving. The grader will help you understand:
Competitive Benchmarking: Is my marketing more or less effective than my competition?
Lead Generation: Are my marketing efforts generating enough leads and sales?
Social Media: How effectively are we utilising, e.g. Facebook, LinkedIn, and Twitter in our marketing?
Blogging: Is my blog driving results that justify the time investment, or are we wasting time doing the wrong things?
Overall Analysis: What are the strong points and weaknesses in our online foundation?
Following analysis by Zooma, the Online Grader will give you a report on the above and outline why you should take particular steps to improve and what your top priorities should be.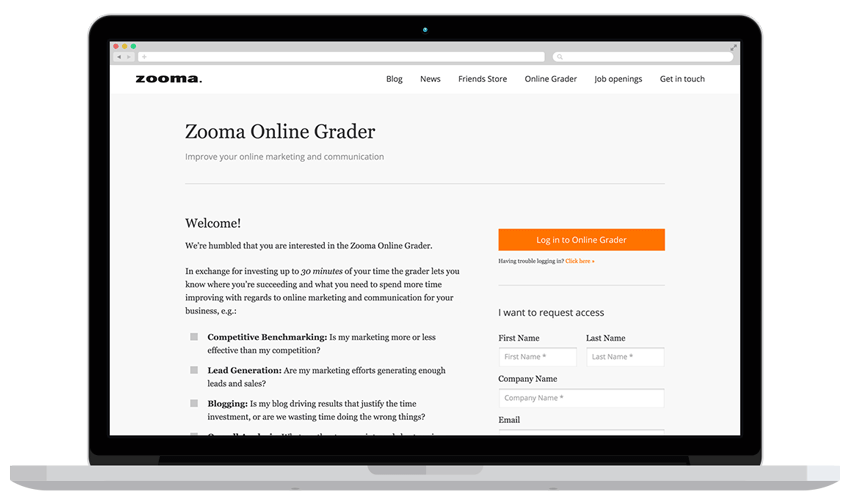 Additionally, if we find something you could be doing better, we will give you resources to learn more about that particular topic so you can become a marketing superstar, and take your marketing to the next level.
To get access to the grader, get in touch with Zooma. Once you have requested access to the grader, we will process it shortly, and if you are approved, you will receive an email with the necessary details to access your Online Grader survey.
Click below to register for a login and grade your online marketing and communication.