You know your company needs to be on the top page of Google search results. I'm sure you've been alerted by colleagues to the latest Google core update, called 'September core update' and informed that it might impact on your page rankings. But how much do you understand about how Google rates content? What exactly is a Google core update, and what is the relationship between a core update, content, and search results? Let's begin!
It's a phrase many marketing departments have begun to dread. An email arrives, or their agency adds 'Google core update' onto a meeting agenda. Suddenly there is a sharp intake of breath, followed by a hastily arranged phone call with the first questions being 'What will the impact of this be' and 'What can we do about this.' But I believe you should view Google core updates as an opportunity. To re-focus on how you are fulfilling your content strategy, and to make sure the content you are producing is the most engaging and of the highest quality.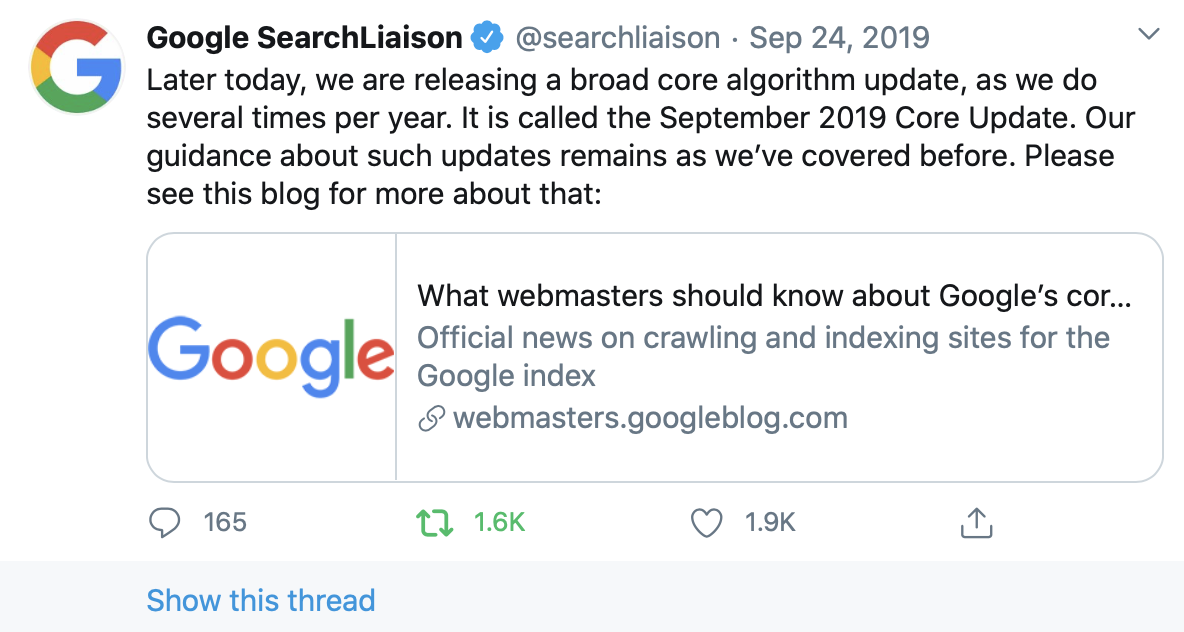 A tweet from Google Search Liaison from 24 September 2019
A core principle I use to create content is to make sure the content is for 'real people.' Today, so many people try and make content for an 'algorithm.' I believe producing content for people, rather than machines is even more critical than a Google core update.
Regular update vs. core update
But what exactly are Google updates, and what is the difference between a regular update and a core update? I'll begin by taking a step back; in simple terms, Google's primary business is showing search results. Like most companies, Google wants to improve its service offering. Google does this each day by slightly developing its search results through an update. Most companies won't notice any differences from day to day, but over time, they help Google improve their search results.
Core updates are slightly different. These are the extensive and substantial changes Google makes to their search algorithms several times a year. These changes are broadly on how Google assesses content and the relevance of content to search inquiries. You are likely to see the effects of a core update on how your website and pages rank. It's worth remembering, for every page that goes down in rankings, another page rises.
You should work with your agency to self-assess how you are doing after a core update. But it's far better to think more broadly about whether your content is engaging and relevant, rather than trying to guess what Google is looking for. Remember, you need to consider that Google is assessing how users are engaging with your content and how relevant pages are.
You need to ask whether your content is relevant for users, rather than for Google.
To help you put together high-quality content, Google has put together a list of questions. Use these to self-assess on whether you're offering quality content. I have included the questions below:
Content and quality questions
Does the content provide original information, reporting, research, or analysis?
Does the content provide a substantial, complete, or comprehensive description of the topic?
Does the content provide insightful analysis or interesting information that is beyond obvious?
If the content draws on other sources, does it avoid simply copying or rewriting those sources and instead provide substantial additional value and originality?
Does the headline and/or page title provide a descriptive, helpful summary of the content?
Does the headline and/or page title avoid being exaggerating or shocking in nature?
Is this the sort of page you'd want to bookmark, share with a friend, or recommend?
Would you expect to see this content in or referenced by a printed magazine, encyclopedia or book?
Expertise questions
Does the content present information in a way that makes you want to trust it, such as clear sourcing, evidence of the expertise involved, background about the author or the site that publishes it, such as through links to an author page or a site's About page?
If you researched the site producing the content, would you come away with an impression that it is well-trusted or widely-recognized as an authority on its topic?
Is this content written by an expert or enthusiast who demonstrably knows the topic well?
Is the content free from easily-verified factual errors?
Would you feel comfortable trusting this content for issues relating to your money or your life?
Presentation and production questions
Is the content free from spelling or stylistic issues?
Was the content produced well, or does it appear sloppy or hastily produced?
Is the content mass-produced by or outsourced to a large number of creators, or spread across a large network of sites, so that individual pages or sites don't get as much attention or care?
Does the content have an excessive amount of ads that distract from or interfere with the main content?
Does content display well for mobile devices when viewed on them?
Comparative questions
Does the content provide substantial value when compared to other pages in search results?
Does the content seem to be serving the genuine interests of visitors to the site, or does it seem to exist solely by someone attempting to guess what might rank well in search engines?
Quality rater guidelines
One way of developing a greater understanding of how search results work and producing quality content is by reviewing Google's Quality Rater Guidelines. Google contracts more than 10,000 people across the world to provide them with insights on how their search results are working and how the core changes are working.
By going through a process of understanding how Google trains its raters to judge quality content, you will be learning what makes good content, which should lead you to make better and more relevant content. This should mean better search rankings and less significant swings when Google introduces core updates.
To help you create more relevant content, I have put together a free guide for you called 'What to do after a Google core update and advice on how you can make your content more relevant.' Included in my guide is:
What you should do as a result of a Google core update
What you can do to make your content more relevant
How using expertise, authoritativeness, and trustworthiness
(E-A-T) will help you make higher quality content.
Download my Google Core Update Content Guide!