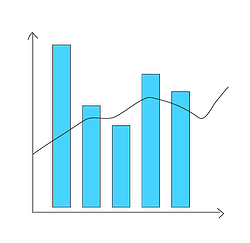 The ground is shifting under our feet. In just a few short years, the mobile phone has changed from being a device mainly used for voice calls and text messages, and morphed into a pocketable computer that has become most people's life line to the online world.
The main reason for this development is shift from basic mobile phones and feature phones to more advanced smartphones such as iPhones and Android Phones. According to comScore, 78 percent of newly acquired handsets in the five largest economies in Europe; Germany, UK, France, Spain and Italy (EU5) during the first quarter of this year were smartphones. Put differently, almost four out of every five people in those countries that bought a new mobile phone in the beginning of the year opted for a smartphone. This development is rapidly starting to have an impact on online traffic and on how a brand's online presence is perceived.
As a direct result of this development, the majority of people in EU5 now own and use smartphones.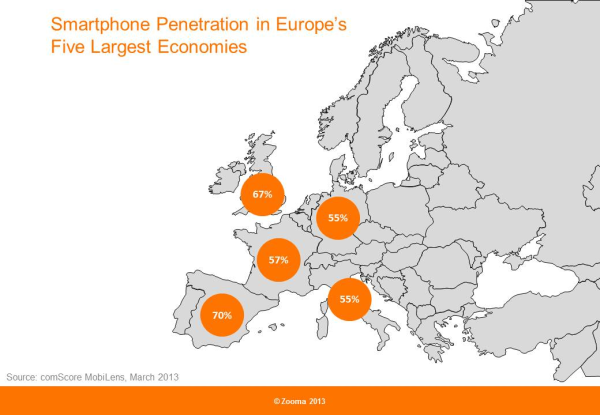 As this shift in device ownership and usages transpires, it's starting to have an impact on online traffic and on how a brand's online presence is perceived. On average, 20 percent of all online traffic in EU5 is from non-PC devices such as smartphones, tablets and other connected devices. This means that a significant share of visitors to a brand's .com/.xx may have their first impression of the brand's online presence via a mobile device. Meanwhile many brands still haven't optimised their onsite presence for a mobile experience which typically results in a disappointing first impression and we all know first impressions are hard to change.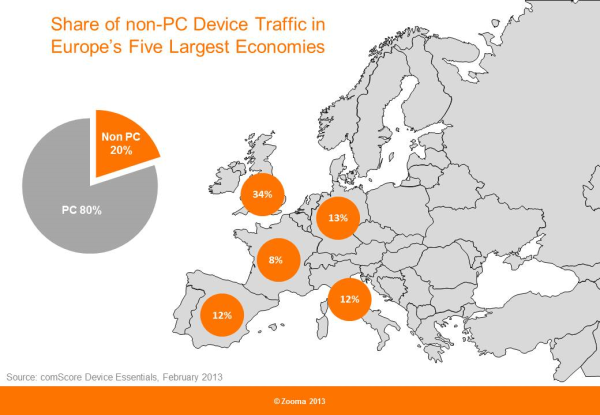 However, it is also clear from the chart above that there is still quite a large difference in the level of non-PC traffic from country to country within EU5. If we look at the full European market the differences is even more striking.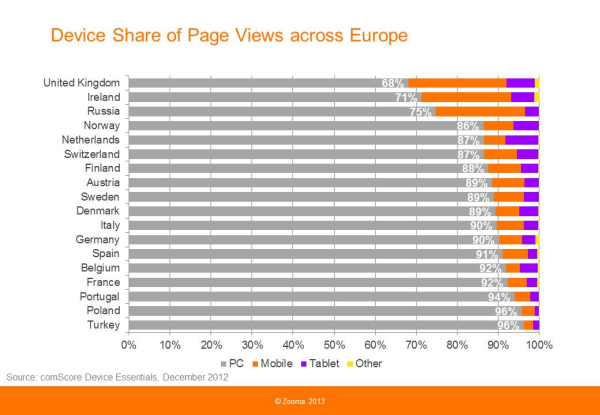 Nevertheless, the online landscape is changing rapidly and it is high-time for brands that haven't already started optimising their online presence for a mobile experience to start doing so. Comparing the last chart above (from December 2012) with the second chart (from February 2013) gives an indication of just how quickly the transition to mobile is happening.
It also becomes clear from the chart above that, as brands start rolling out a mobile optimised online presence across Europe, they should start with the UK, Ireland and Russia.
Would you like to find out how your brand needs to optimise the mobile experience? Please get in touch with Zooma!