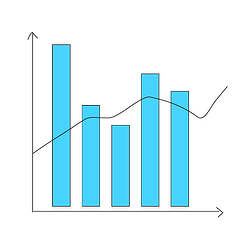 Not that long ago, online almost exclusively meant being connected via a computer to the Internet. Being connected and online via other devices such as mobile phones was something that was talked about a great deal but few people actually did it. That has all changed dramatically in recent years. Now the transition to a multi-device, always connected online society is happening at breakneck speed around the world and it will impact everything we do online.
According to leading analyst firm Strategy Analytics, about 40% of all mobile phones sold around the world in the second quarter of 2012 were Smartphones (such as the Apple iPhone and Samsung Galaxy phone). It is also the fastest growing segment in the mobile phone market and in the next couple of years the vast majority of phones sold is poised to be Smartphones.
Furthermore, in the third quarter of this year the global Smartphone population past the 1 billion mark, according to the analyst firm, meaning that 1 in 7 people (or about 14% of the world's population) now own a smartphone.
If we look at the online population, the penetration of smartphones is even more striking. According to a recent global study by Google, TNS Infratest and IAB Europe, 1 in 3 people online (or 32%) already use a smartphone an another 6% of the respondents in the survey said that they intended to buy a smartphone within the next 12 months. Meanwhile 8% of people already use a tablet (such as an iPad) with another 10% intending to buy one within the next 12 months.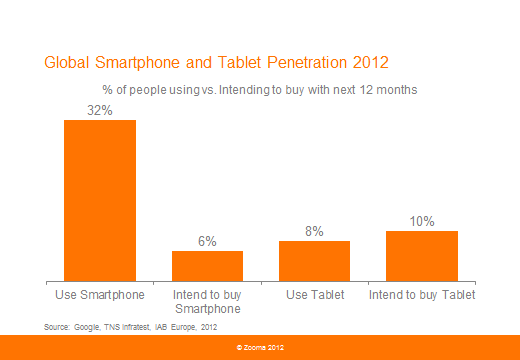 Looking at these numbers, it's easy to see that in the very near future the majority of people online will use other devices, in addition to computers, to access online services. On average mobile traffic already accounts for around 15% of monthly visits to most companies .com's. For some it's a significantly higher proportion. In its Q3 earnings call, Facebook revealed that 60% of its monthly visitors access facebook.com through smartphones (which means 604 million users per month).
Looking into the future, telecom vendor Ericsson predicts that by 2017 there will be 5 times more mobile broadband subscriptions than fixed broadband subscriptions in the world, which in turn will generate a significant increase in mobile access to applications and services online.
What this all means is that every company that plans for a new online presence need to think seriously about how mobile fits into its online strategy today and in the future. If you want to know more about what this means for your company and the way you need to plan and improve your online presence, please get in touch with Zooma.