The Chinese tech market is dominated by Baidu, Alibaba and Tencent and until recently they have been focusing mainly on the domestic market. However, according to the China Tech Insight (which covers trending topics in China's tech sphere), the region's highly innovative and competitive Internet tech industry is now moving into a transition period. The sector as a whole is showing ambition and increasing capability for competing in a global marketplace.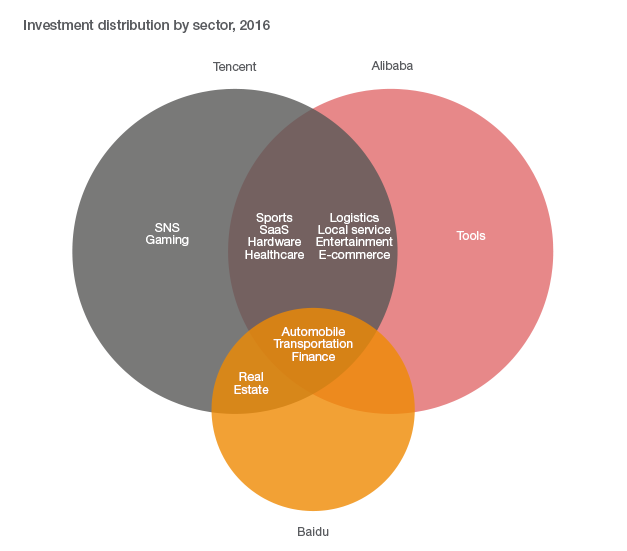 Data source: IT Juzi, China Tech Insights
An interesting report published earlier this year outlines Trends and Predictions for China's Tech Industry in 2017. The full 60 pages report is available for download. These are some of the key findings around globalisation and Chinese internet giants' search for new growth opportunities.
Search for further growth in niche markets
In 2016, China's mobile internet market in major cities largely lost its strong growth momentum. From e-commerce to on-demand services, tier-one cities in China have seen increasing saturation of mainstream internet services. Thus, in 2017, Chinese internet companies will pivot in search of further growth in niche markets.
In this wave, we will see prospectors head into small- and medium-sized cities where users' adoption of online services is growing alongside the development of the smartphone market. At the same time, teenagers and senior citizens will also attract quite a lot of attention from the industry. Services specifically designed to cater to their demands, such as online booking of nursing services, will begin to appear in the market.
Globalisation is becoming inevitable
Faced with the slowdown in the domestic market, Chinese tech companies will begin to search for opportunities in markets in other emerging countries. The strategy of copying successful domestic products and models to other markets will become a favourable choice for Chinese tech companies. Chinese smartphone makers, in particular, will begin to bet big money on other emerging markets such as India. A few boutique mobile application developers will also find opportunities in developed markets by leveraging their Chinese DevOps experience, such as musical.ly. Overall, globalisation will be an inevitable trend for all the Chinese tech companies that have been enjoying the benefit of a vast domestic market for many years.
E-commerce platforms will compete beyond e‑commerce
China's major e-commerce platforms are now accelerating their integration with financial services. Serving both consumers and retailers, e-commerce platforms are leveraging their massive consumption data records to launch both personal finance products as well as supply chain financial support for vendors.
Another area that has attracted the attention of e-commerce companies is the business of content. Trending media formats, including short videos and live streaming, show great potential in generating traction in e-commerce and hence have become the new business focus for many Chinese e-commerce platforms including Taobao and JD.com.
Chinese companies will build up R&D to prepare for a global competition
Though the industry has reached a consensus that the fast-growth stage of the mobile internet is coming to an end, the next multi-billion dollar market has yet to emerge. As discussed in the report, Chinese companies are making attempts to catch up with global leaders in technological development. However, it will still take some time before Chinese companies can lead the world in technological development considering its current deficiency in primary research.
China is the world's largest social media landscape. Read our earlier blog post about top 6 Chinese social media sites in 2016.