This article contains a brief look at the current state of digital and online growth, platform wars, search engine optimisation (SEO) and search engine marketing (SEM), the continued rise of video content and other trends and statistics that we think are important going into 2019 and beyond.
Digital growth is continuing
The latest report by Hootsuite and We Are Social called 'Digital 2019' reveals the impressive growth across all things digital. Let's take a closer look at the top line data you need to understand - mobile, internet and social media use.

The current population of Europe is

846 million.

74% of the population live in urban areas.

The number of mobile subscriptions exceeds the population in Europe.

The total number of mobile subscriptions is 1.1 billion, equivalent to 130% of the population - meaning that on average people have 1.3 mobile subscriptions.
Around

86% of the population use the i

nternet. The number of internet users has increased by 7.5%, from 674 million in 2018 to 724.7 million in 2019.

The number of social media users is

462.5 million; more than half the population of Europe. Facebook is the most popular social network. YouTube, Instagram and Snapchat are the most popular amongst millennials. Messenger apps such as WhatsApp and Facebook Messenger are becoming ever more critical as a primary way of communicating online. Information is incredibly easy to share with messenger apps!

The annual growth continues, especially among active mobile social users in Europe,

which implies that more people can access social media on the go. It had increased from 376 million in 2018 to 393.4 million in 2019, a growth of 3% compared to the previous year.
The inbound methodology and the platform war
In a digitalised and 'onlinified' world, marketers are facing ever-greater challenges. According to 'State of Inbound 2018', a study by HubSpot, 61% of marketers say that generating traffic and leads are their biggest challenges. Consequently, marketers are increasingly allocating more and more of their budget towards lead generation.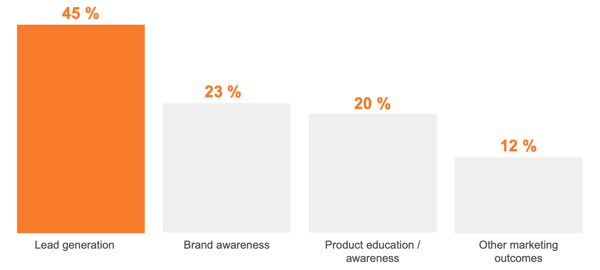 45% of marketers' budget, which is the lion's share, is now allocated to lead generation, according to MarketingCharts.
Lead generation and business results are the top objectives of the inbound strategy. Combining the inbound methodology and using software platforms will help to achieve these objectives and grow business. Meanwhile, all the leading software providers are competing to create the perfect - full ecosystem platform - to cater to the entire customer journey, from prospect to customer.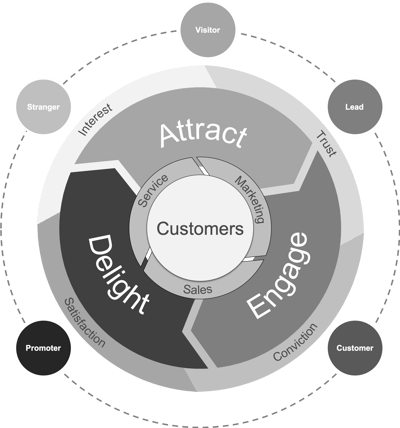 The inbound methodology stages & customer journey
There are several different ecosystems in the digital world right now—all competing for the same thing. You need to be careful about how you choose to invest in tools and platforms and think about how it will fit in your overall infrastructure over time. Keep in mind that competition between these ecosystems may intensify in the coming years. Here's a closer look at the leading contenders:
All these platforms are primarily competing for the same thing but have different legacies and philosophies on how to best help companies succeed in the digital age. The fastest way forward (and most effortless) for most companies will be to decide on one single platform, based on the best fit for the organisation - and try to limit the use of too many different tools from other ecosystems. Using many different tools from competing platforms will result in lots of time, effort and resources being wasted on integration and technological challenges. This is because connecting the tools and moving data between multiple systems take a lot of time and tend to fail regularly. Companies, therefore, end up spending most of their resources on solving tech issues rather than serving customers.
Google will become more like a human brain
As more and more people spend time in front of computers or smartphones, searching for information - Google search numbers continue to increase each day. Google now registers over 3.5 billion searches per day. If you want to know something, then you don't ask, you google!
Consequently, Google is setting the agenda for a lot of development online. So let's check out what is new in Google.
What really matters for SEO success?
Original content from credible authors is becoming even more critical!
Changes to the core concepts of quality and authority over the past year mean that Google is increasingly relying on 'human quality raters'.

Generating low-quality content - as a means of rapidly producing new blog articles for the sake of 'content freshness' - does not work anymore.

SEO no longer relies upon re-purposing information otherwise found online (especially without citing one's sources) as an effective and sustainable content strategy.
Smart Features bring complexity to SEM
To create a really effective SEM campaign today requires considerable knowledge and experience; choose an agency that specialises in Google Ads.
The update from Google AdWords to Google Ads brings many new features, including more automated and smart options, like Smart Campaigns, with new and updated tools integrated directly into the Google Marketing platform.
One of the consequences of the updates is that Google ads will not be completely automatic. Experts who are familiar with the platform will readily take advantage of the new platform's features, thus gaining an advantage over both manually created and automated ads.
Video continues to grow in importance
Video will become even more important in 2019!
According to eMarketer's newest forecast, online video ad spending in the US will reach $27.8 billion. Accordingly, it will constitute one quarter of all US digital advertising in 2018.

Video will represent more than half of ad revenues for Twitter and Snapchat and be 30% of the total revenue for Facebook according to the forecast.
There are, of course, many more digital trends to keep on top of as we move towards 2020, but these are some of the main ones that will have a massive impact on many companies this year.
---
Want an extended digital outlook in
PPT

format? Then just hit the button below!